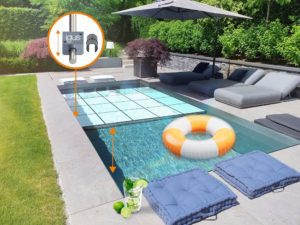 Swimming pool on demand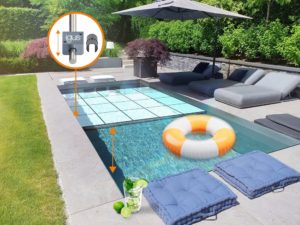 A Conmag Engineering solution can transform a terrace into a pool while saving £25,000 with the help of corrosion-free linear technology from igus
Conmag Engineering has designed a "mobile pelvic floor" that transforms a luxury swimming pool into a walk-on terrace using linear technology engineering from igus that works reliably and with little maintenance under water. The solution saves up to £25,000 per unit over the previous system.
It has been a hot summer in Europe and across the world. Many people dream of having a swimming pool, but often their garden is too small. The solution by Conmag Engineering is a pool that is also a patio, where the core solution is a moving floor. In the highest position, it is stable enough to walk across or sit on a sun lounger. When you want to plunge into the cool water, simply push a button and the bottom sinks to a maximum depth of 1.5 metres, displacing the water as it sinks. The temperature is kept warm with a 10cm-thick insulating layer on the underside of the floor that minimizes heat loss. And an integrated counter-current system allows fast swimming on the spot, without constant turning.
Linear technology that is difficult to access must be maintenance-free
While the swimming pool design may seem elegant and minimalist, the design of the mobile pool floor was a structural challenge. For example, a gap of eight millimetres had to be maintained while the floor is lowered and raised.
"The core competence was to achieve linear motion that was as continuous, precise and reliable as possible," says Gerhard Rosskogler, Product Manager for High-Pressure Technology at Conmag. "When lowering the movable floor, the aim was to keep the forces resulting from the water displacement as low as possible in order to ensure sustainable construction without jeopardizing the stability of the equipment." In addition the submerged application presented challenges, Gerhard adds: "Since the entire mechanics are under water and very difficult to access, all components must be maintenance-free and as low-wear as possible."
igus linear guide works free from lubrication and is chlorine-resistant
The use of a corrosion-free linear guide seemed the right way to go. The designers began testing. "The experts from igus advised us very competently and made it possible for us to process the solution quickly," says Rosskogler. "We immediately received free samples of the components and so were able to start a test setup quickly. Therefore, we could run a much longer test phase and were finally able to provide the customer with a mature product."
The height adjustment mechanism works as follows: threaded spindles are installed in all four corners of the pool. The floor moves up and down over them, safely guided by linear guides of the drylin R series from igus with stainless steel corrosion-free shafts, mounted on housing bearings of the drylin OXUM-06 series made of anodized aluminium. The XUM plastic plain bearing films made of the igus polymer iglidur X ensure low-friction movement. The films are resistant to high loads, resistant to many chemicals, have low moisture absorption and score well with wear resistance under water.
Cost savings of around £25,000 per system
Due to the use of igus linear technology, Conmag Engineering has killed several birds with one stone.
Firstly, maintenance of the adjustment mechanism is close to zero, because microscopically small solid lubricants are integrated into the plastic plain bearing films, which enable low-friction dry running without external lubricants. Lubrication time is therefore superfluous. In addition, there is no risk of grease contaminating the water. Secondly, all components of the mechanics work reliably even in constant contact with water and chlorine. "Thanks to the combination of stainless steel and high-performance plastics, corrosion is unthinkable," explains Rob Dumayne, drytech director at igus UK. "In addition, the plastic absorbs only a small amount of moisture, guaranteeing maintenance-free and reliable operation for many years." And the last benefit: cost. "Compared to the gearboxes previously used, igus technology meant we were able to achieve cost savings of around £25,000 per system," concludes Rosskogler.