Northamptonshire Chamber of commerce member benefits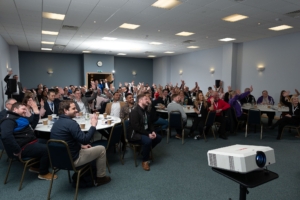 As a chamber member, you'll have access to:
A wealth of contacts
Marketing & media opportunities
Inbusiness & chamber bi-monthly magazine
Networking events
After hours networking events

Multi-chamber networking events
Join Today!
Membership is applicable to businesses of all sizes and sectors, from sole traders right through to global organisations. It provides access to a wide range of support services, such as networking opportunities, free marketing tools, social media engagement and a wealth of insurances and advice lines to help you protect your business, as well as discounted training courses and export documentation,.
For further information or to set up a free, no obligation consultation to discuss membership and how it will benefit your company please fill out our enquiry form. Or alternatively please call the team on 01604 490490.
One of our business advisers will contact you as soon as possible!
Referral Scheme
Be rewarded for being part of something special!
Northamptonshire Chamber has launched a Members Referral Scheme which rewards current members for growing the Chamber community.
This referral scheme will see Chamber members receive £50 off their renewal cost, every time a company they recommend joins the Chamber. The £50 saving will be awarded for each recommendation that results in a new Chamber member.
The Members Referral Scheme not only rewards those that loyally recommend the Chamber, but should also see us welcome a real mix of new members for you to do business with.
So, give it a try! Let us know if any of your business contacts would like to join the Chamber by filling in the form below and you could save money!
To find out more or to recommend a company,:
Call 01604 490490, email membership@northants-chamber.co.uk
Dual Membership
Northamptonshire Chamber & Milton Keynes Chamber dual membership offer – would you like your business to have a presence in Milton Keynes?
The Milton Keynes Chamber is growing rapidly. With this in mind, the Northamptonshire Chamber is giving members the opportunity to expand their network of contacts by offering membership to the Milton Keynes Chamber of Commerce at a 75% discount.
Dual membership will give you access to a wider business community, give you more marketing and networking opportunities and help you establish and maintain a presence in the Milton Keynes area.
To ensure you are getting the best value for money, we are offering Northamptonshire Chamber members a 75% discount off Milton Keynes Chamber membership fees.
To find out more or to recommend a company,:
Call 01604 490490, email membership@northants-chamber.co.uk