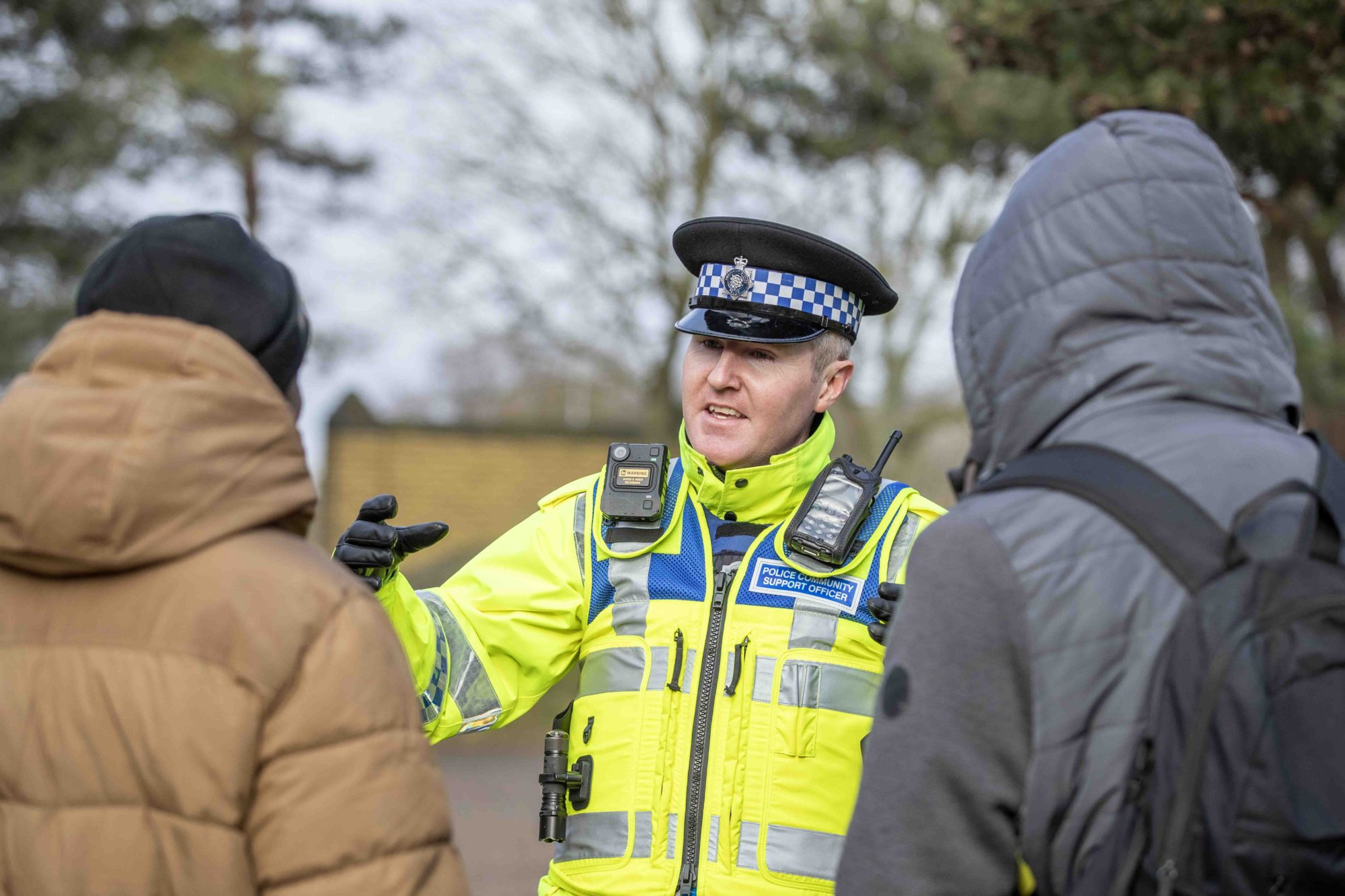 Northamptonshire Industrial Estate's 'hero' up for top logistics award
Paul has been the estate's dedicated PCSO for more than two years and plays a key role in ensuring crime on Brackmills Industrial Estate remain at an all-time low.
Paul walks up to 20 miles every day to combat crime, support businesses and promote cycle safety. With lower crime rates than other industrial estates and an active daily presence, Paul plays a pivotal role on Brackmills.
The PCSO has been recognised for his dedicated work and has been announced a finalist for the Northamptonshire Logistics Awards 2023 – in the 'Unsung Hero of the Year' category.
Here is an insight into Paul's role on Brackmills and his dedication to safety and security …
How I start my days on Brackmills
The first thing I do when I start my duty is check the systems and find out if there has been any crime or incidents overnight. This will determine what I need to do for that day. This could involve any number of different activities. If there has been a burglary, for example, I would have to check the CCTV and ANPR cameras, make enquiries, question the businesses in the area to see if they have any information, and also visit the victims to offer support and crime prevention tips.
Walking is key to my role
I used to travel across the estate on my bike, but I was going too fast and I wasn't connecting with people well enough. So now I walk. I walk around 40,000 steps per day, which equates to about 20 miles. I ensure I cover an equal spread of every area across the site, and I can often cover every area at least twice during my day. As this is a sponsored role, it means I can dedicate all my time purely to Brackmills, unlike other PCSO's who may have to cover larger areas. This means I can do far more for the estate.
I'm here to help
I'm here to help everyone, even if it's related to an issue at home. It doesn't have to just be things that have happened on the estate.
Alongside engaging with employees, I also report things to partner agencies, such as pot holes, graffiti, fly tipping and overflowing bins. I made 39 reports to the council last year. I'm also here to offer support and guidance to homeless people around the estate. It's about looking after everybody's needs, keeping people safe and ensuring the estate maintains a high standard.
Crime is at an all-time low
In 2021 there were just 82 crimes reported across the estate, which is much lower than other estates. We made just 26 arrests last year. If you consider that there are 20,000 people on the estate, that's a very small number.
It isn't just the presence of a PCSO that's made the difference, though. Before I started, the BID had invested heavily in security, such as CCTV and ANPR cameras. Crime is low because of the work done all across the estate.
Supporting cyclists is a key part of my role
There are lots of cycle paths across Brackmills, and it's great to see how well they're utilised. But for those who use the roads, there are occasionally road traffic collisions. I am trained to administer first aid, and I am here to help with these incidents.
Cycle safety is very important, and in the dark nights lights are a legal requirement. You'd be surprised by how many people don't have lights. I'm a big believer in education over enforcement, though. I can issue tickets to people who are cycling with no lights, but instead I managed to get some bike lights that I was able to give to people. Their safety is the most important thing. On top of that, we also do cycle marking sessions and offer crime prevention tips.
Crime prevention tips
Ultimately, the best thing we can all do is work together. For starters, if you see a crime or have been a victim of one, you must report it. If we don't know it's happened, we can't help, and we don't then have a full awareness of what needs tackling across the estate.
Often people will leave it a couple of days before reporting a crime. While it's great that the person has come forward to tell us, by reporting it when it happens, or when you first know about it, we are in a much stronger position to deal with it. Even if you're not sure how serious it is or whether it's worth mentioning, I'd much rather people came to speak to me than ignore it. The more we can work together, the less crime there will be.
Get in touch
There are loads of ways to get in touch with me. The most direct is to stop me and talk to me as I walk across the estate. But you can also: •    Email paul.hurst@northants.pnn.police.uk
 Call 101 and ask to speak to me, my number is C7124
 Or contact me on social media – @nptonpolice on Twitter or Northampton Neighbourhood Policing Team on Facebook