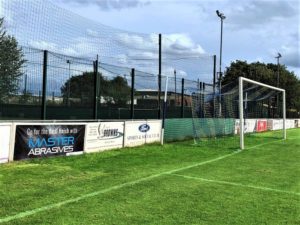 Master Abrasives kicks off sponsorship of Daventry Town FC
Master Abrasives, a global provider of manufacturing consumables and capital equipment for industry, are pleased to announce they are now sponsoring Daventry Town Football Club (DTFC) from the start of this season to support the local community.
Paul Batson, Managing Director of Master Abrasives, comments: "We've been looking for new ways to give back to the local community and are delighted to have found a new partner in our local team at DTFC. The club is community run and does so much for families, supporting young people in sport and arranging a local food bank – they really are more than a football club and we're proud to be one of their sponsors."
DTFC's team operates a Community Food Bank and identifies individuals in need in collaboration with local community support groups. They also have a thriving junior section with over 40 teams allowing children, both male and female, to play in safety from 4-18 years old.
Paul continues: "We're thrilled about the opportunity to work with the club and wish them every success this season. Together, we can foster a strong spirit of community whilst building our brand and social media presence. It's exciting to demonstrate our commitment to community in such an extensive way and imagine the new opportunities this exposure will bring."
Mike Doney, Juniors Coach and Commercial contact for DTFC, adds: "We are so grateful for the wonderful support from the team at Master Abrasives. I am really chuffed that so many companies are so kindly supporting us and aligning not just to football, but the community – it's so rewarding to see. Master Abrasives are a massive contributor to this success."
Master Abrasives partnership with DTFC so far
The partnership involves featuring two pitch-side boards at the grounds in Daventry, where Master Abrasives encourages spectators to "go for the final finish" or "achieve your grinding goal" with their team. On top of this, Master has supported the recent family fun day organised by DTFC, providing prizes for the tombola. The team will continue to look out for more ways to work together and achieve their targets, supporting the work that DTFC does. Finally, we wish DTFC (on and off the pitch) all the best for the coming season.