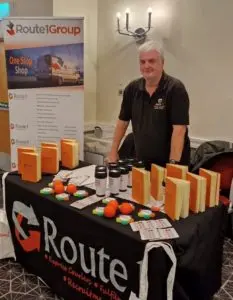 Connecting, Networking, and Winning: A Recap of Route1's Recent Chamber of Commerce Event!
Having just returned from the Milton Keynes Chamber of Commerce expo on the 2nd November, we want to express our sincere gratitude to the remarkable teams at both the Milton Keynes Chamber of Commerce and Northamptonshire Chamber of Commerce for their dedicated efforts in organising these highly successful expos. Year after year, these events have proven to be a platform for growth for Route1 Group, earning the trust of over 200 clients across diverse industries. Our clients rely on us for same-day urgent and next-day dedicated deliveries. We meticulously track these deliveries using our cutting-edge in-house technology and versatile vehicle fleet.
At Route1 Group, we are your ultimate logistics and fulfilment solution, custom-tailored for large or heavy consumer goods brands. Simply put, we take care of everything—from warehousing your stock and managing your inventory to expertly handling the picking, packing, and delivery of your customer's goods.
Our two-person home delivery team and robust vehicle fleet ensure seamless operations, guaranteeing that your deliveries are in safe hands. But that's not all. Our state-of-the-art warehouse and dedicated teams enable us to tackle any hand assembly work, positioning Route1 as your top choice for outsourced business support.
Did you happen to miss the Chance to Connect? Not a Problem!
Suppose you didn't get to catch up with Brendan in person, fret not! You can still connect with him via LinkedIn: (18) Brendan Flanagan | LinkedIn.
Why not delve deeper into Route1's core services by exploring our two NEW digital brochures:
Route1 Express DIGITAL BROCHURE
Two-Person Home Delivery DIGITAL BROCHURE
Are you ready to explore our bespoke Logistics solutions NOW?
Let's schedule a no-obligation call with Brendan to dive into your specific requirements, current delivery operations, business objectives, and aspirations.
Brendan Flanagan: brendan@route1express.co.uk
Stay Engaged and Win!
There is still time if you missed the chance to connect or enter our competition. Join our mailing list, and by doing so, you automatically enter the running for a chance to win a £50 Amazon voucher. It's our way of expressing gratitude for staying connected and engaged with Route1. Sign up HERE.
Save the Date!
Mark your calendars and keep those eyes peeled for the thrilling Prize Draw results, set to be unveiled on Friday, December 1st, 2023, we can't wait to share the WINNER with the Chamber's valued members!
#NetworkingSuccess #ChamberOfCommerce #Route1Events #StayConnected 🚀