Wheels to Work – Winter Scooter Hire Deal
Member Offers
Wheels to Work - Winter Scooter Hire Deal
We are offering a fantastic winter deal for anyone who signs up to the Wheels to Work Scheme before midnight 30th November 2023.
Complete our online application form today and you will be eligible to take part in our money back deal. Instead of paying the £150 deposit at the start of your hire, you are entitled to a discounted fee of £100 (saving £50!) and if you sign up and complete the minimum hire period of 4 months, you will receive an extra £50 back at the end of the hire.
This means you will save a total of £100 on your scooter hire!
To be eligible to hire you must be able to provide the following documents:
UK Provisional / Full Licence
Valid CBT Certificate
Most Recent Payslip (or 3 months bank statements)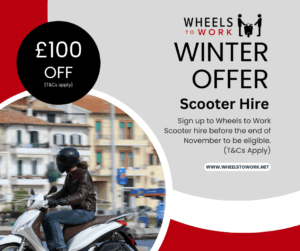 Commute in Style
Our 125cc scooters are the perfect and most stylish way of commuting to work and socialising with family and friends.
There are many benefits in using the Wheels to Work service:
Delivery to your door.
Manufacturer servicing.
We pick up and swap scooters when it's due a service.
Insurance.
Roadside assistance.
A secure lock is provided to keep your scooter safe when it's parked up.
Don't miss out on this opportunity to transform your daily commute into a hassle-free journey and save money too.
(T&Cs Apply)
Short Term Scooter Hire
Our stylish Italian Piaggio scooters are available for short-term hire via Spyder Motorcycles.
The shortest term is one week with collection from our base at Silverstone, Northamptonshire.
Please note: Short-term hire agreement is excluded from the winter deal above.
Wheels to Work
For further details, please call 01327 857213 or email info@wheelstowork.net.
Wheels to Work provide 50cc and 125cc scooters in both Northamptonshire and Buckinghamshire to support our customers getting to and from their place of work, education or training.