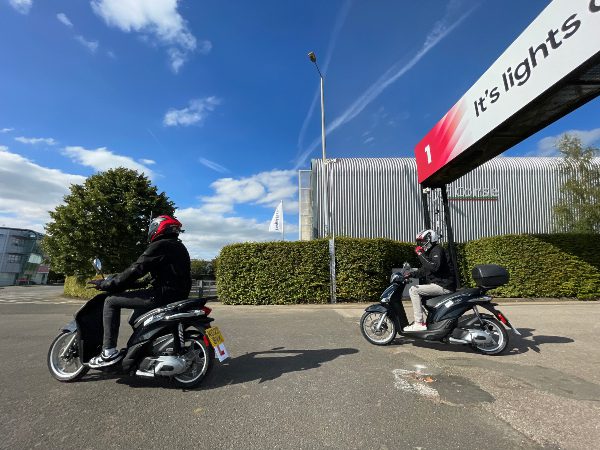 Transform Your Commute With Wheels to Work
Member News
Are you looking to transform your commute into work? Spyder Motorcycles, through their subsidiary company Wheels to Work Silverstone, are a leading provider of scooter hire in 12 counties. They are making it easier than ever for individuals to access convenient, reliable, and
affordable transportation.
Why should you hire with Wheels to Work?
One of the key advantages of hiring a scooter through W2W is the flexibility it offers. With both 50cc and 125cc scooters available, you can choose the perfect size and style to suit your needs. Whether you're commuting to work or travelling further afield, we have the right scooter for you. But it's not just about the convenience – there's also
the economic benefits to consider. Hiring a scooter can be a more cost-effective option compared to purchasing one outright.
You don't have to worry about maintenance, insurance, or road tax, as all of these are included in the hire fee. It's a hassle-free way to get around without breaking the bank. Another advantage of hiring a scooter through W2W is the peace of mind that comes with their exceptional customer service. Their friendly and knowledgeable team is
always on hand to answer any questions or address any concerns you may have. They'll guide you through the process, ensuring that you feel confident and comfortable every step of the way.

What sets W2W apart from other scooter hire services is their partnership with Spyder Motorcycles. Spyder has been running for 15 years, offering motorcycle and scooter hire, event support and management, fleet management, logistics and a workshop facility. They started W2W three years ago as an addition to an already successful business.
The program aims to help individuals who have difficulty accessing public transportation or affording a vehicle of their own, by providing reliable and economical scooter hire options.
Get Moving Again
W2W empowers individuals to overcome transportation barriers and improve their quality of life. So, whether you're a commuter, a student or simply looking for an efficient and affordable way to get around, consider hiring a scooter through Wheels to Work Silverstone. With their bikes and exceptional customer service they are the go-to choice for scooter hire in 12 counties.
Experience the freedom and convenience of two-wheeled transportation today through W2W!
Wheels to Work
For further details, please call 01327 857213 or email info@wheelstowork.net.
Wheels to Work provide 50cc and 125cc scooters  in Northamptonshire to support our customers get to and from their place of work.