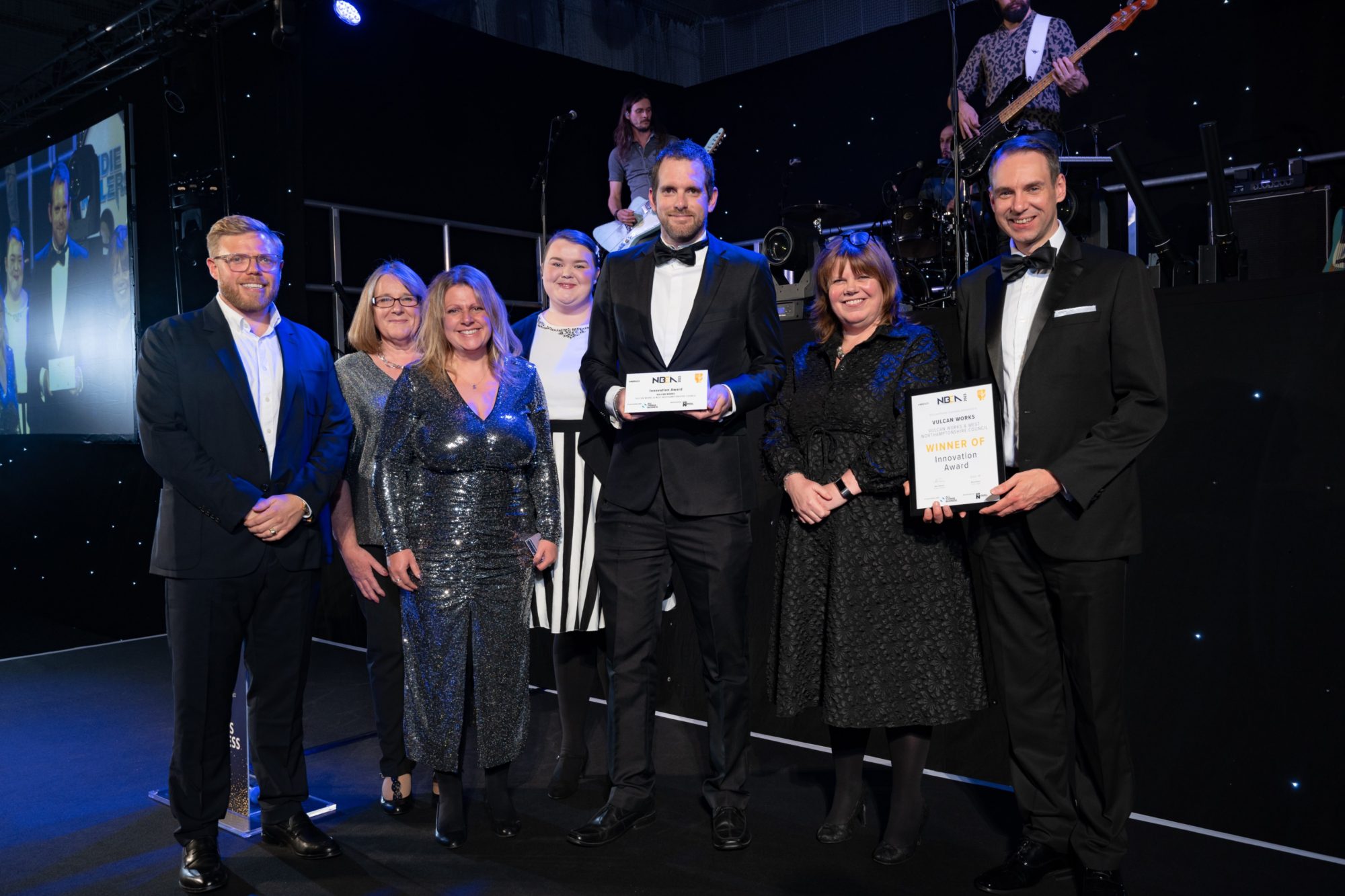 Northampton hub for businesses wins award for 'fostering innovation'
Vulcan Works, a serviced workspace hub for startup businesses in Northampton, has won an award for innovation at the Northamptonshire Business Excellence Awards (NBEAs).
West Northamptonshire Council and the Vulcan Works centre management team were jointly presented with the Innovation Award for the innovative but sympathetic renovation of derelict council buildings to create an incubation space for startup businesses in the creative and digital industries – sectors that were identified in data as important, growing sectors in Northamptonshire.
The £14 million construction project was also a finalist in the Land and Development Award category, which recognises a construction project that has had a significant impact on the Northamptonshire community or economy.
Judges praised Vulcan Works, which opened in the Cultural Quarter area of Northampton in February.
Comedian Rob Beckett reiterated this when announcing Vulcan Works and West Northamptonshire Council as winners of the Innovation Award. He said: "The judges were blown away by what the winner has done to support both local businesses and the community. They have fostered innovation and at the same time proven they are very good at what they do."
Centre Manager at Vulcan Works, Garrick Hurter, said: "We were over the moon to win the Innovation Award against such stiff competition from other well-deserving innovators in the county. To be finalists in the Land and Development category too was just fantastic.
"The Innovation Award means a lot to us especially, as we are always looking for innovative ways to help new and growing businesses to flourish. The concept of Vulcan Works is a brave and bold one that has already had such an impact on our local business community and we have plans to do so much more."
Cllr Dan Lister, Cabinet Member for Economic Development, Town Centre Regeneration and Growth, added: "I was delighted to see Vulcan Works win the Innovation Award at the Northamptonshire Business Excellence Awards.
"West Northamptonshire has a high number of new businesses starting up every year, which need support to nurture and grow their business. This led to the innovative idea to create and deliver the Vulcan Works. The space provides a home for businesses, with on-site support to help them thrive. To see these derelict but characterful council properties transform into a busy ecosystem for startups is hugely rewarding."
For more information on Vulcan Works, see vulcanworks.co.uk.