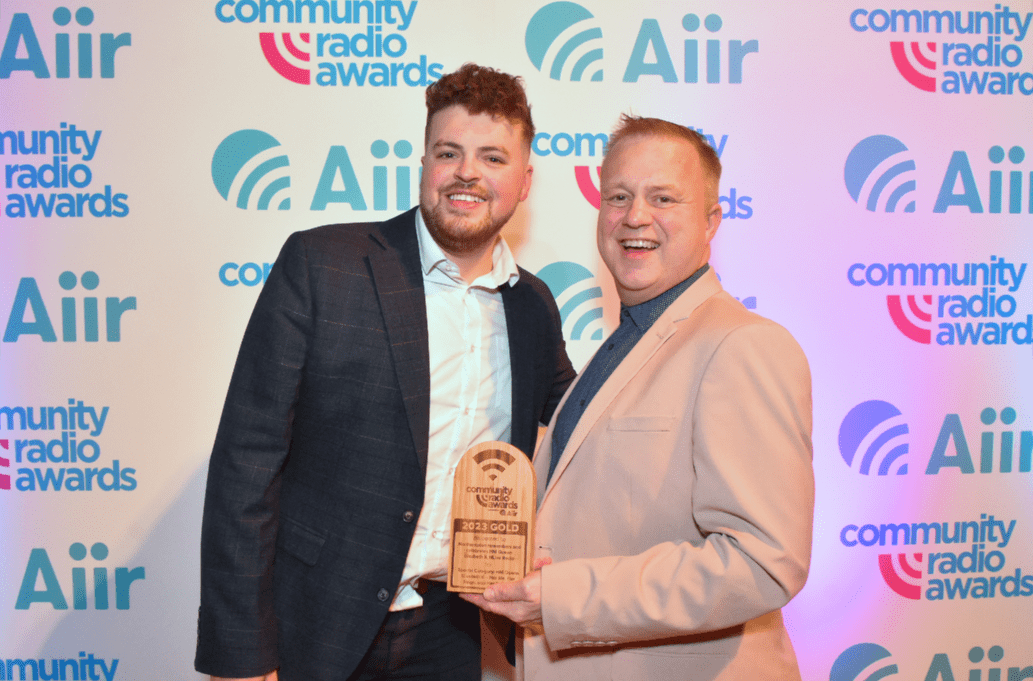 NLive Radio wins GOLD at the national Community Radio Awards
Local radio station NLive Radio has been recognised at the 2023 Community Radio Awards
The gold award for the Special Category: HM Queen Elizabeth II – Her life, Her reign, and her passing was presented to John Leivers, the culmination of an intensive judging process to recognise those producing great quality content and engaging with their communities.
The awards ceremony was held in Newcastle-upon-Tyne, alongside the UK Community Radio Network conference.
John Leivers, said: "I am so happy to have been awarded gold by the judges. The story of the passing of the Queen was an international event, and our show told the local story of her death.
The thing I love about local radio is telling the stories of our local communities. During this time I was able to talk to people about their experiences.  From the Lord Lieutenant to the people marking their respects outside All Saints Church.
I was speechless to say the least on the night. Totally unexpected. It's great to have this kind of acknowledgment from my peers in local radio".
The three hour show celebrated and remembered the life of the Queen and her passing. John was supported by Multimedia Journalism and Multimedia Sports Journalism students from the University of Northampton, Zosia Czubak, Katie Rawson, Joseph Ashmenall, Sam Clark, Cole Mason and Eric Sandor.
Maxine Jones, awards director, said: "The recognition for John Leivers and this special show is well deserved, and we hope it recognises their success, and encourages others to engage, represent and support their communities."
"We've been running the awards now for eight years, and as ever the standard is immense, and our judges have a really tricky job" Organisations like NLive Radio have proven their value at the heart of their local areas."
You can hear John on his daily show Afternoon delight Monday to Friday –from 2pm on NLive Radio.
NLive Radio is the local radio station for Northampton broadcasting on 106.9FM across the town, online via their website and via their own phone app, or by asking your smart speaker to 'Launch N Live Radio'
Martin Steers, Station Manager said: "I'm so proud of John and happy for him for winning this award, he does so much for NLive Radio and for our audience everyone across Northampton. It's recognition of his skills and energy that he puts into his shows"
As well as receiving Gold, the station also received other recognition, Dr Audrey Tang who presents the Wellbeing Lounge received Silver in the Female Present of the year, as well as her show being a finalist as specialist content show of the year, and Undiscovered Northampton presenter Paul Brennecke was a finalist for Sage Person of the year.