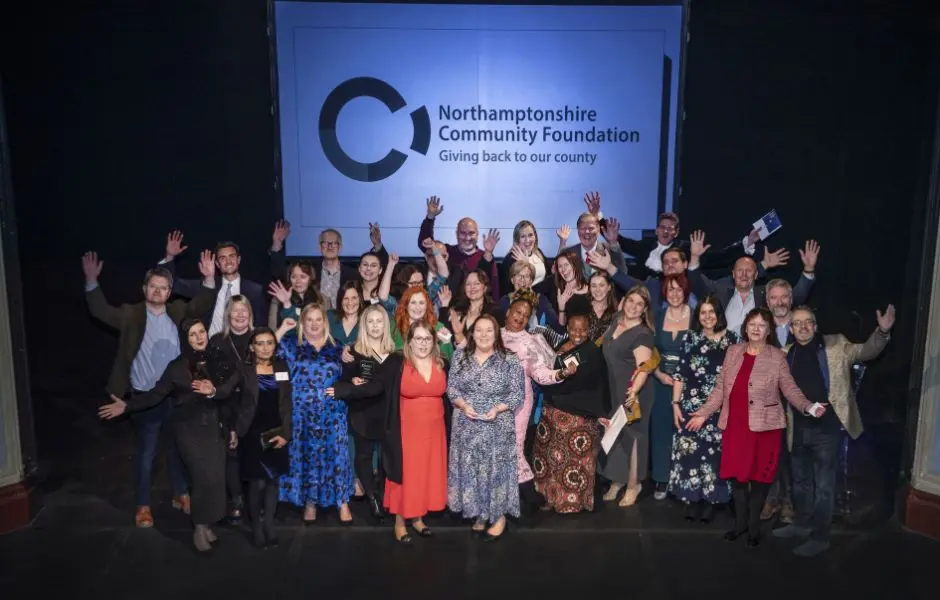 More than 40 groups and individuals to be celebrated at annual awards event hosted by local community foundation
Northamptonshire Community Foundation Annual Awards 2022Northamptonshire Community Foundation's Annual Awards event celebrates the charities, community groups and unsung heroes who are dedicated to bettering the lives of residents across the county.
This year's event will take place on Wednesday 29th November at the Royal Theatre in Northampton, giving attendees the opportunity to come together in their recognition of those who work tirelessly to give back to their local community.
More than 40 individuals and local groups are in the running for awards, with categories including Building Better Communities, Celebrating Culture and Heritage, Excellence in Education, Happy and Healthy Communities, and Tackling Inequalities. Winners will also be announced for the Avon Inspirational Woman Award, the High Sheriff's Award and the Lady Juliet Townsend Award for Volunteering.
Rachel McGrath, CEO of Northamptonshire Community Foundation, said: "Our awards evening is a keynote event in our calendar to recognise, celebrate and thank those who truly go above and beyond to meet the needs of our communities. We look forward to being joined by our generous donors, sponsors and partners on the night.
"The pandemic and ongoing cost of living crisis means the work of local volunteer-led community groups and charities is so vital and needed now more than ever. We are looking forward to a celebration of the incredible work that's carried out across all four corners of Northamptonshire and to shine a spotlight on local projects that make a difference on our doorstep to people's lives and wellbeing."
The foundation's Annual Awards are sponsored by Scott Bader Commonwealth this year, who have spoken about their pride in getting involved: "Scott Bader Commonwealth is proud to be the headline sponsor for Northamptonshire Community Foundation's Awards.
"Like Northamptonshire Community Foundation, we believe that making a positive difference in our local communities is fundamental for any business and we look forward to recognising those who have made a meaningful impact throughout Northamptonshire at the awards."
In 2023, the nominees for Northamptonshire Community Foundation's Annual Awards include:
Building Better Communities
Q Space support the LGBTQ+ community in Northamptonshire
Daventry Area Community Transport (DACT) provides transport solutions for those who can't access public transport
Friends of West Glebe Park protect and develop their local green space for community use
Oxfordshire Play Association (OPA) aims to improve the lives of children and young people through play
Doddridge Centre Ltd is a welcoming resource centre for community and voluntary groups
Celebrating Culture and Heritage
Cherwell Theatre Company creates an environment where young people can be themselves, make friends and feel valued
Masque Theatre is a community theatre group that has been running for more than 90 years
Outside in Theatre create innovative projects to promote health and wellbeing through the arts
Oundle Fringe Festival showcases local performers in local venues, providing a week of entertainment each year
Excellence in Education
Northampton Saints Foundation uses the core values of rugby to inspire, support and educate
Friends of NLive Radio support local station NLive Radio to benefit the local community
The Lab is a creative community hub providing opportunities for creative learning and expression
Screen Northants aims to boost local pride and provide free opportunities for people to gain experience in the creative industries
Happy and Healthy Communities
Living Well Occupational Therapy CIC provides support to those living with a chronic or long-term illness
Emmanuel Coffee Shop work to improve quality of life within the local community, particularly for those who are socially disadvantaged
Re:Store Northampton addresses poverty through a wide range of indoor and outdoor community projects
The Lowdown provides free and confidential support services to young people struggling with their mental health
Thomas' Fund provides music therapy for children and young people aged 0 – 19
Tackling Inequalities
The Victoria Centre is a centrally located community hub providing a place for all communities to connect
United African Association advise, support, advocate for and represent the African community
Care & Repair Northamptonshire aim to keep vulnerable householders across Northamptonshire safe, warm and secure at home
Northampton Town Football in the Community aims to create a healthy, happy and connected Northamptonshire
Linwood Community Co-Operative runs Kingswood Food Bank, giving out emergency parcels to those in need
Northamptonshire Community Foundation is the county's leading independent grant-making charity. Since the beginning of the financial year, the foundation has awarded over £1 million in grants to local grassroots organisations, and since its inception in 2001 the foundation has awarded over £22 million.
To find out how you can support your local community foundation, take a look at the Northamptonshire Community Foundation website: www.ncf.uk.com