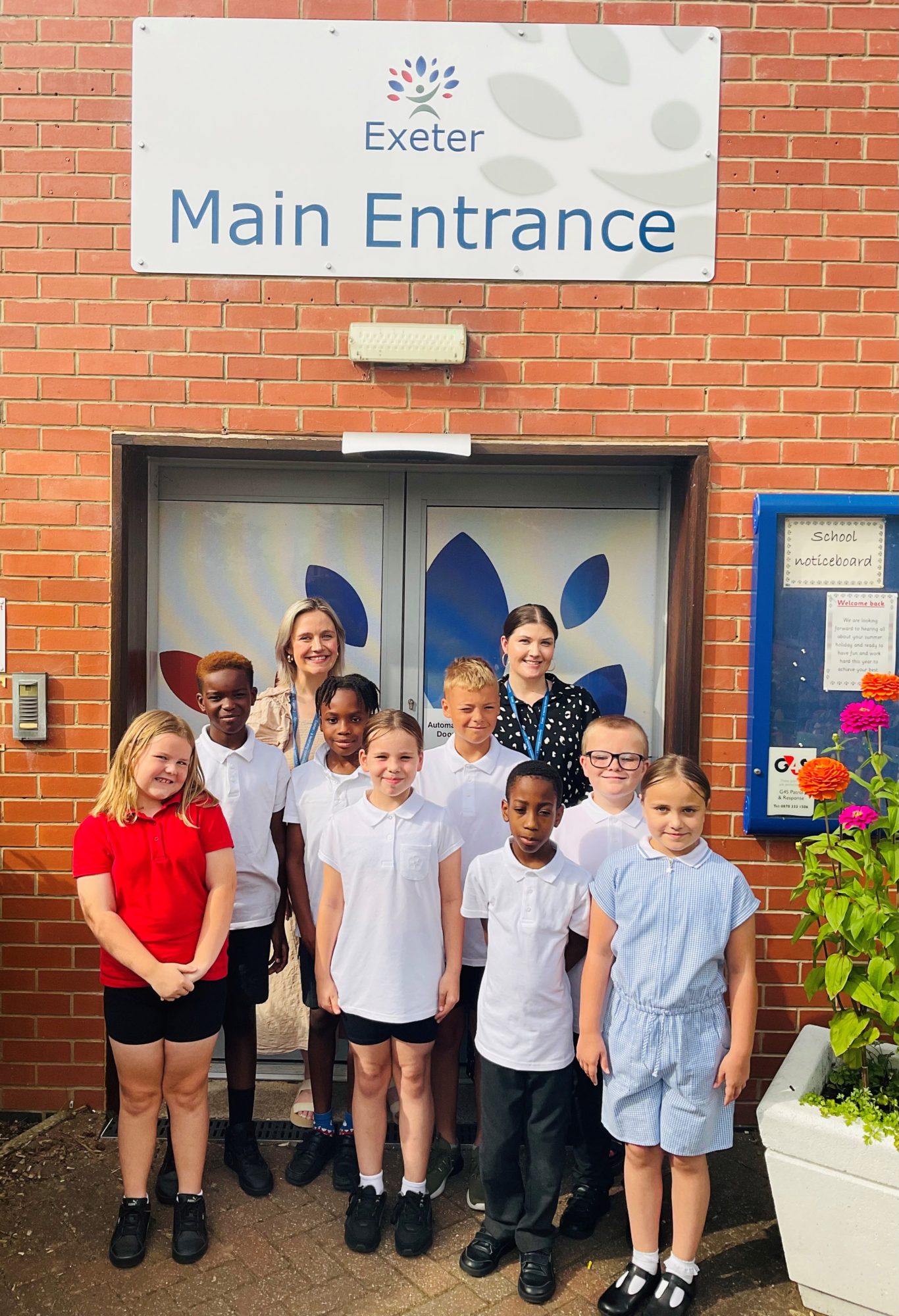 Exeter – A Learning Community rated Good by Ofsted for the first time in its history as Corby school is "transformed"
Exeter – A Learning Community, part of the Inspiring Futures through Learning (IFtL) multi-academy trust, is celebrating after being graded Good by Ofsted following a decade which saw the Corby school judged Requires Improvement in 2014 and then Inadequate in 2016.
On the back of a two-day visit of the 537-pupil school for 2-11 year olds in June, inspectors recognised the school's early years' provision as Outstanding. In addition, the quality of education, behaviours and attitudes, personal development, and leadership and management, were all rated as Good in the inspection report. This is the first time that Exeter school has been graded Good overall by Ofsted since the watchdog began inspecting schools in 1992, and at any point in the school's 70-year history.
In its first inspection since Exeter joined IFtL in 2019, Ofsted met with the school's Co-Executive Headteachers, Co-Heads of School, other membership of the leadership team, and representatives of the Academy Improvement Board, including the trust's Chief Executive. They carried our deep dives in early reading, mathematics, English, history and geography, which involved speaking to subject leaders, class teachers and pupils, visiting lessons, looking at pupils' work and also listening to pupils read.
The effectiveness of the school's arrangements for safeguarding was evaluated; pupils' behaviour in lessons, around the school and at playtime and lunchtime was observed; and inspectors considered responses to Ofsted's parent and staff questionnaires, as well as speaking to parents directly. Additionally, pupils were asked for their views on how safe they feel in school and on behaviour within school.
The report said leaders "have worked tirelessly to improve the school," are "ambitious for all pupils" and "committed to removing any barriers that prevent pupils from experiencing success", and that "as a result of leaders' persistent pursuit of excellence, the school has been transformed". Other comments in the report included:
Leaders have developed an ambitious curriculum. It has been crafted with care to identify the key knowledge and skills that pupils should acquire from early years to Year 6.
Leaders ensure that staff have the skills they need to teach effectively. Teachers explain new learning clearly to pupils. They routinely check that pupils remember prior learning.
Classrooms are calm and purposeful. Pupils know how they are expected to behave in lessons. They listen closely to their teachers and engage well in their learning.
In the early years staff demonstrate high levels of expertise. They provide children with countless opportunities for purposeful learning.
Early reading is prioritised. Staff are trained to ensure they have the expert knowledge they need to teach phonics well.
Leaders are determined that pupils with special educational needs and/or disabilities (SEND) will receive the support they need to succeed. Teachers make effective adaptations in lessons so that pupils with SEND can access the curriculum.
Relationships between adults and pupils are warm. In class, pupils show respect for their teacher and each other.
There is a strong safeguarding culture in the school. Leaders have established well-organised systems to keep pupils safe.
The report also noted that "staff appreciate the school's strong leadership," that they "value the support they have had," and "almost all staff agree that leaders consider their workload and well-being."
Jennifer Doherty and Hannah Crawford, who were appointed Co-Heads of School in April, said: "At Exeter, we love our school, our children and our community, and we are passionate about what we do. So having worked here since 2009 and 2015 respectively, we are absolutely thrilled with this Ofsted outcome, which sees the school formally move from Inadequate to Good. Every day, we work hard to achieve a positive difference for the children entrusted in our care, and this is recognition that we are getting it right. We have an exceptional curriculum, as the Ofsted report acknowledges, and offer bespoke personal, social and emotional development for each individual child. Going forward we are encouraging parental representative leadership across the school, and their influence will help drive Exeter to become the primary school of choice for our community."
Ofsted also highlighted how IFtL, as the overseeing multi-academy trust, had kept a "close eye" on school improvement. "It has worked closely with leaders at every step of the school's journey to become a good school", inspectors reported.
Co-Executive Headteachers Melanie Saunders and Matthew Shotton explained: "A significant amount of hard work has gone into turning Exeter school around as we have sought to address the diverse needs of the community and create a sense of belonging for children. Our moral compass as senior leaders has always been to make a difference to more pupils, and at IFtL we always knew we had the capacity to support the school through a team of people, even in the darkest days. We have put firm foundations in place, and Ofsted's reflection that 'children in the early years get off to an exceptional start to their education' is testament to that.
"We would like to pay tribute to the commitment of teaching, and non-teaching, staff to the journey at Exeter. They have strived to be the best for the children and adaptive in their teaching to ensure progress and increase opportunities, shown a real dedication to the school's values and trauma-informed practise to create a safe place for children to learn, and worked really hard to develop positive relationships with parents/carers. Lots of Exeter colleagues have been through numerous Ofsted inspections before and have stayed here for the love of the children. We could not have achieved this outcome without their loyalty and commitment, knowing how tough it was to get to where we are today. For them, and our wider community, they have finally got the validation they deserve."
Adrian Francis, Chair of the Local Governing Board at Exeter – A Learning Community, added: "From the acknowledgement that 'leaders have prioritised personal development' and how 'the curriculum is being implemented consistently well', to how 'a love of reading is promoted right from the start of school' and pupils who are identified as not keeping up 'receive extra support so that they do not get left behind', this is a truly excellent Ofsted report which everyone connected with our school should be proud of. I would like to thank everyone who has worked tirelessly to improve Exeter, and look forward to supporting the school to work on the areas identified for continued development."
Sarah Bennett, CEO of IFtL, commented: "This is the first inspection of an IFtL school that was taken on as a Special Measures school and therefore is important to the Trust in demonstrating that our belief in being a mechanism for school improvement and the methods taken to achieve this are robust. We are delighted with the result, but most importantly of all of course is that the children, families and staff of Exeter have an opportunity to celebrate and be proud of all the hard work undertaken since 2019."