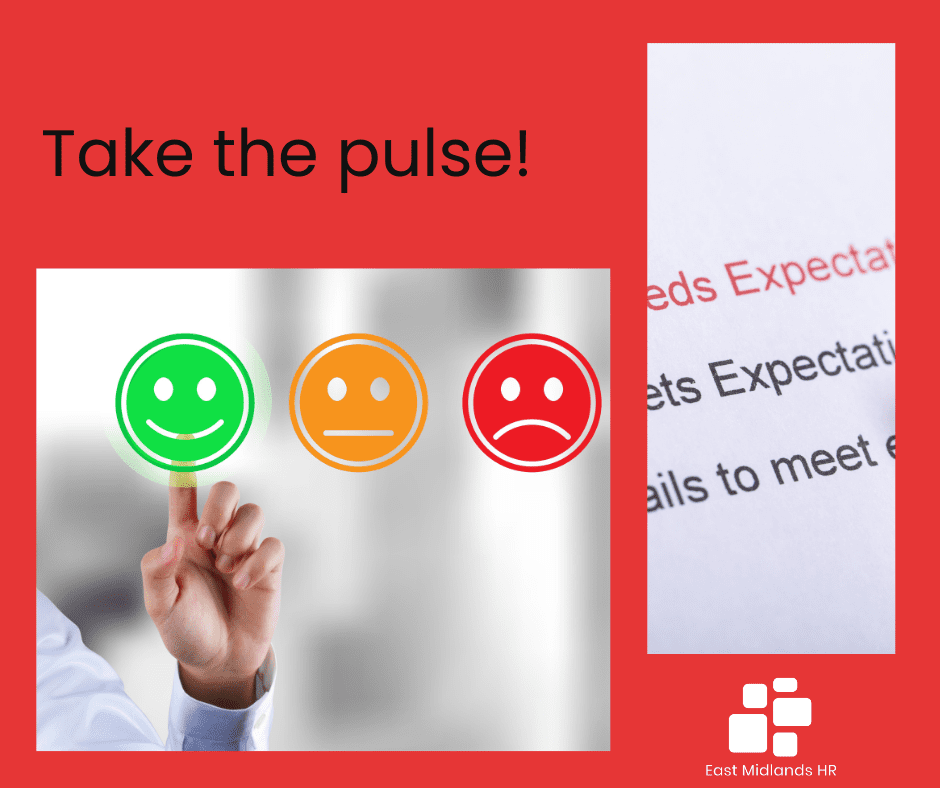 Employee Pulse Survey Feature integrated into HR Software
Employee Pulse Survey Feature integrated into HR Software
Pulse Survey for engagement and retention
HR Software Feature for Employee Pulse Surveys
East Midlands HR, a silver partner with Breathe HR software solutions, is proud to announce the addition of a new feature to its platform. The Employee Pulse Survey is now integrated into the software, offering valuable insights for organisations with 21 or more employees.
This innovative feature allows employers to gather real-time feedback from their workforce, enabling them to better understand employee engagement, satisfaction, and overall workplace culture. By including the Employee Pulse Survey in its software, East Midlands HR seeks to empower organisations to make data-driven decisions that drive employee retention and productivity.
"We are excited to introduce the Employee Pulse Survey as part of our HR software offering," said Nicky Buckley, Managing Director at East Midlands HR. "We understand the importance of listening to employees and making informed decisions to create a positive work environment. This new feature demonstrates our commitment to providing comprehensive solutions that meet the evolving needs of businesses."
The Employee Pulse Survey feature is designed to be user-friendly and customisable, allowing organisations to tailor a question to their specific requirements, as and when they choose. It provides a convenient way for employers to regularly check the pulse of their workforce and identify areas for improvement.
In addition to the Employee Pulse Survey, the East Midlands HR software continues to offer a range of robust features, including onboarding, performance evaluation, and compliance tracking, making it a comprehensive solution for businesses of all sizes.
For more information about the Employee Pulse Survey and other features of the East Midlands HR software, visit www.eastmidlandshr.com
About East Midlands HR:
East Midlands HR Ltd is a leading provider of innovative HR & Recruitment software solutions designed to streamline human resource management and enhance organisational effectiveness. With a commitment to delivering cutting-edge technology and exceptional HR & Recruitment solutions, Nicky Buckley and the East Midlands HR team empowers businesses to optimise their HR processes and cultivate a thriving workplace culture.