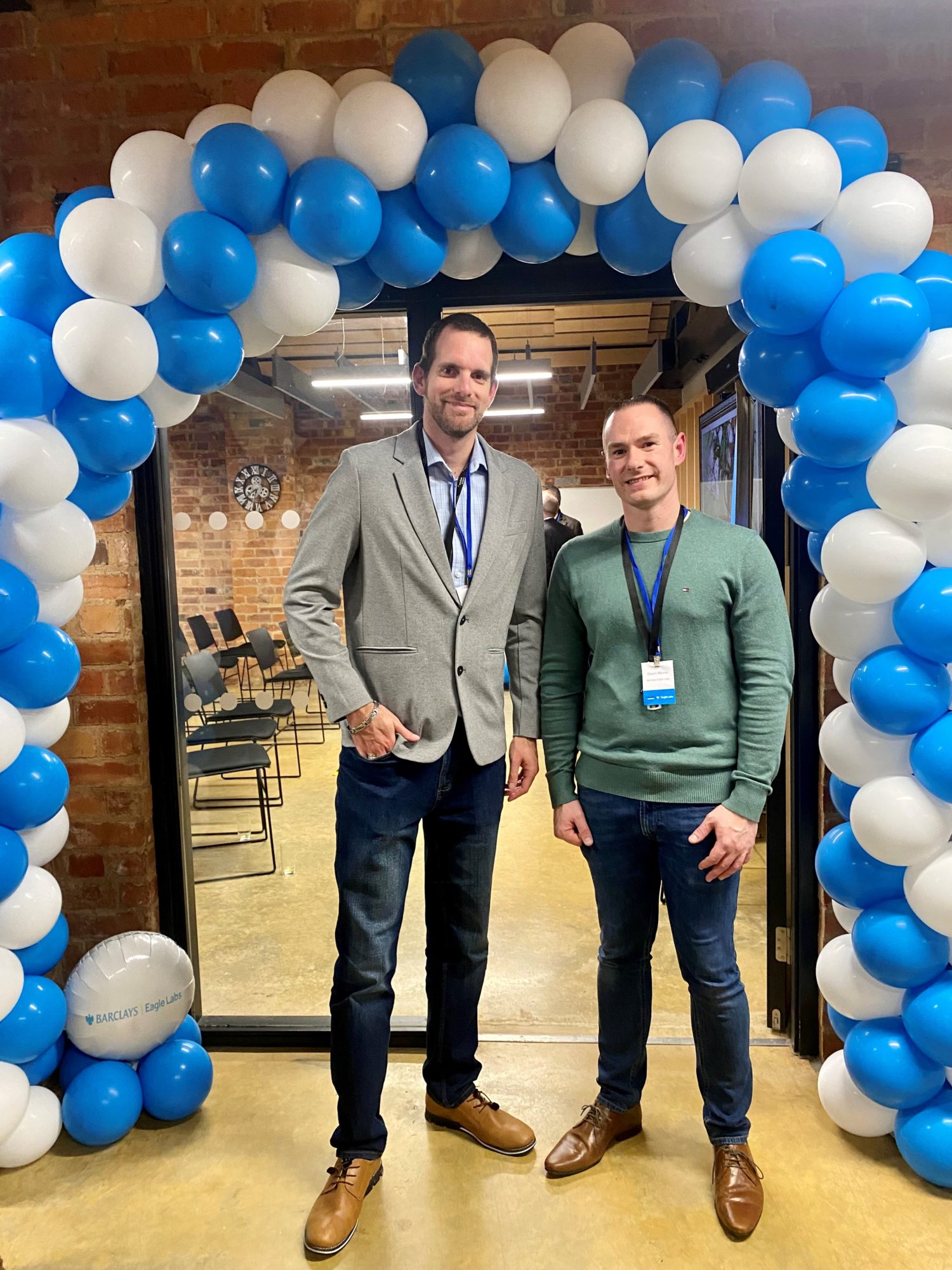 Eagle Lab has landed in Northampton
A new Barclays Eagle Lab has landed at Vulcan Works, following a launch party on Thursday 19th October.
The event saw local businesses, council representatives, education providers and key figures from the Barclays national team come together to celebrate the start of an exciting new partnership between the High Street bank and flexible workspace provider Vulcan Works.
Guests had a chance to network over food provided by local business, The Copper Kitchen, and heard from speakers involved in the Barclays Eagle Lab project which aims to support start-up businesses by building an entrepreneurial ecosystem around it. This ecosystem will give Northamptonshire based start-ups and young businesses access to a network of industry experts and mentors as well as growth programmes, events and workshops, and investors and funding streams. The lab will complement existing services already offered by Vulcan Works' own on-site Business Growth Manager, Darren Smith.
The Barclays Eagle Labs' Ecosystem Manager for Northampton, Owen Moran, is based at Vulcan Works three days a week as part of a contract between Barclays and Oxford Innovation Space, which was appointed to manage Vulcan Works by West Northamptonshire Council.
The launch event saw Vulcan Works' Centre Manager Garrick Hurter; Owen Moran; Barclays Eagle Lab co-founder Matt Corbidge; Head of Major Projects and Regeneration at West Northamptonshire Council, Kevin Langley; and Andrew Lewer MP deliver speeches to the audience.
Garrick Hurter said: "I am grateful to look after Vulcan Works. It is so much more than just a fantastic building. This building offers so much for businesses in Northampton, from hot desking, meeting room hire and office and workshop space through to events and business support. This building is a space that encourages support and this partnership with Barclays gives us something unique we can pass on to our customers."
Matt Corbidge explained some of the history behind the Barclays Eagle Lab concept. He said: "The thought process behind Eagle Labs was to help support entrepreneurs. We started in 2015 and have since helped 13,500 businesses across the UK to raise £3.7bn in external funding.
"We only partner with the best in class so our labs can act as local ecosystems, connecting businesses to mentors, investors and corporates and giving them access to markets that enable them to scale through our accelerators. Vulcan Works is an amazing hub in the town centre. It is a great building and facility and I believe we can build something special here."
Owen Moran added: "In Northampton 7,800 businesses started up last year. Statistically six out of 10 won't make it past year three. This is where the partnership with Barclays Eagle Labs and Oxford Innovation Space can hopefully help improve those statistics. We are unique in that we have the power of a Barclays Eagle Lab running alongside in-house Business Growth Manager Darren and the wider Vulcan Works team so I am hoping we can change those statistics."
Head of Major Projects and Regeneration, Kevin Langley from West Northamptonshire Council was part of the team who oversaw the building works and launch of Vulcan Works. He said: "It is great to see it all coming to life and wonderful to see the support being offered by Oxford Innovation Space and Barclays Eagle Labs. The Council looks forward to seeing the great work of this project and how it enhances the work being carried out across the area to support businesses over the years to come."
Andrew Lewer, MP for Northampton South, wrapped up the speeches by saying: "I'm really pleased that Barclays are bringing an Eagle Lab to Vulcan Works because it's what the Vulcan Works project was intended for. It fits like a glove with the facilities and local knowledge of West Northamptonshire Council and the eagle-eyed commercial focus (excuse the pun) and world-class expertise that Barclays bring. The partnership of West Northamptonshire Council and Barclays Eagle Labs makes much reference to signposting. Paperwork can get in the way for many SMEs so helping them to navigate these processes and signposting them will allow them to thrive. I very much hope that this is going to be the lasting legacy of the Vulcan Works and Eagle Labs here in Northampton."
For more information on Vulcan Works, email info@vulcanworks.co.uk or visit vulcanworks.co.uk. To learn more about Barclays Eagle Labs, see https://labs.uk.barclays.