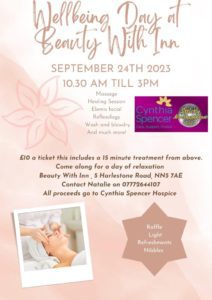 Charity Wellbeing Morning 24th September 2023
Be pampered & do good!!
We are hosting a charity wellbeing day in aid of Cynthia Spencer Hospice at Beauty Withinn, on the 24th September 2023 from 10.30am til 3pm. Tickets are £10 and include a 15 minute treatment from one of the below.
Mini manicure
Mini pedicure
15 min massage
Mini Elemis facial
Head massage
Wash & Blow Dry
Reflexology
Healing session with Yvonne Goodsell
Come along alone, or with friends/partners and or colleagues & receive a relaxing treatment from one of our fully qualified Beauty Therapists:
You can book more than one treatment but only one is included in your ticket.
All money raised will go straight to Cynthia Spencer.
Please call 01604 588881 or visit our website https://beautywithinn.com/