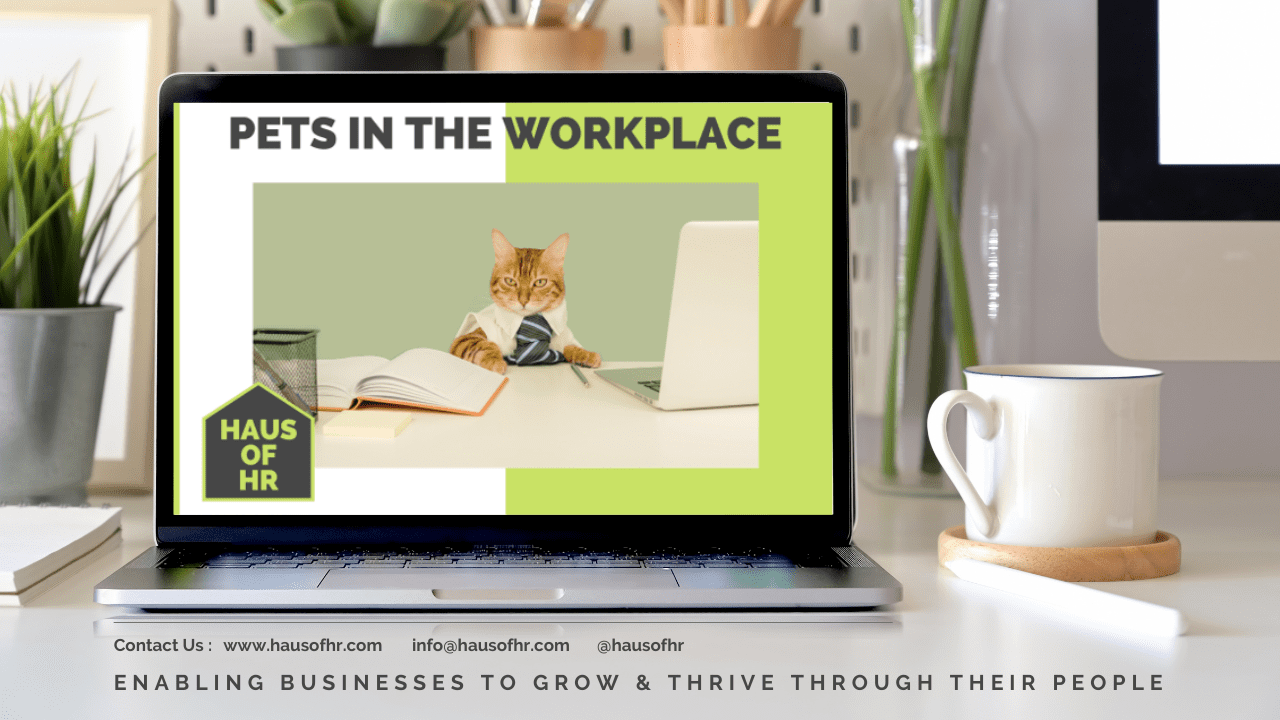 Would you consider pets in the workplace?
Blogs
I'm Rachel, and I'm the Founder of Haus of HR. When I started my own business, I was the only employee – but very quickly I made the first appointment to my board. Meet my office pal and Chief Happiness Officer, Buddy.
He is responsible for boosting my wellbeing and giving me some much-needed company when I need to get my head down and work solo – and he's very good at his job.
I've worked in HR for over 20 years, and I know how vital it is to create a positive and productive work environment for your team. As my own team has expanded over the years (I've recruited a few humans as well!), those values have been at the heart of my own workplace ethos too – and there is growing evidence that having our furry friends present in the workplace really can be a big boost for wellbeing and productivity.
Many of us discovered these benefits during lockdown home-working, but some of the big businesses like Google, Amazon and Ben & Jerry's have invited their staff to bring their pets to work for some time. Here are some reasons why it could be good for your workplace, too…
It's Unifying
You know when someone on parental leave brings in their newest family member to meet everyone? The team gather round, they focus on the beautiful baby, they swap stories about their own experiences, ask questions about how it's going…babies, children and pets are great unifiers, and people who may have struggled to make small talk before have got some new common ground. Pets do it all – they're great ice breakers, and great team builders too!
It's Relaxing
It's well-established and proven that high-octane, high-stress workplaces are detrimental to health and wellbeing. A more laid-back and relaxed environment is far more likely to boost your team's confidence, creativity and productivity – and having an animal around naturally brings down the tension, pace and stress. The presence of a pet in your home can lower stress, anxiety and even blood pressure – and having one in the workplace will help to spread that calming vibe to your team as well.
It's a Perk
Allowing your team to bring their pets into the workplace is a great employment perk. Many dog owners are facing increases in the cost of dog sitting and walking services, and easing that burden when you can for them will be much appreciated – and just having that much-loved pet near them during the working day, instead of knowing that they're waiting for them at home alone, will ease that separation anxiety for both animal and owner. For some, this perk could even mean the difference between staying in a job and leaving it.
It's Proven in other Environments
There are all sorts of programmes that routinely bring pets into places where people feel pressure, stress, sadness or loneliness. Schools, hospitals and care homes routinely welcome animals to boost health and happiness there – and some schools even have literacy dogs, whose presence helps reluctant readers to gain more confidence and fluency. These benefits can apply in all sorts of ways in the workplace too.
Lovely Luna
I was delighted to learn that Paradise Computing have embraced this practice and all its benefits as well. A gorgeous Collie cross, Luna is the resident Staff Wellbeing Dog, and she's just celebrated her birthday in the office!
Cameren from Paradise Computing says, "No matter how busy I am, Luna always puts a smile on my face! It's important to take regular breaks throughout the day and so being able to stop for a few minutes and play with Luna really helps to relieve stress and clear my mind, I can return to work feeling refreshed and energised."
Cassandra from Paradise Computing added, "Having your loyal dog by your side promotes a sense of comfort, reduces stress levels, and creates a positive and relaxed atmosphere. Plus, for dogs accustomed to your presence during remote work, being able to accompany you to the office ensures they won't miss you, fostering their wellbeing as well."
So is it for you?
You'll probably need some clear ground rules about the frequency of visits, and the standards of behaviour you'll expect – from pets and their humans as well! You may even need a rota if more than one person wants to bring their furry friend along, and make sure that all team members are happy with the arrangements, staying aware of any phobias and allergies.
It doesn't have to be every day – but the benefits are clear. Having pets in the office can boost mood, increase job satisfaction – and ultimately, employee retention. Above all, it shows in a very visible, tangible and fluffy way that you care about your team – which is good for everyone, including your pets!
If you're eager to prioritise the wellbeing of your employees by implementing pet-friendly policies, Haus of HR is the ideal partner to support you. With their expertise, they can help create a nurturing environment where pets are welcomed, fostering positive emotions, job satisfaction, and employee retention. Contact Haus of HR today to show your team that their happiness and furry companions are valued.
Visit https://hausofhr.com
Call 01604 261380
Email info@hausofhr.com
Paradise Computing focuses on building smarter businesses by unlocking the true potential of the modern workplace, through cutting-edge IT, ERP and Cloud Services.