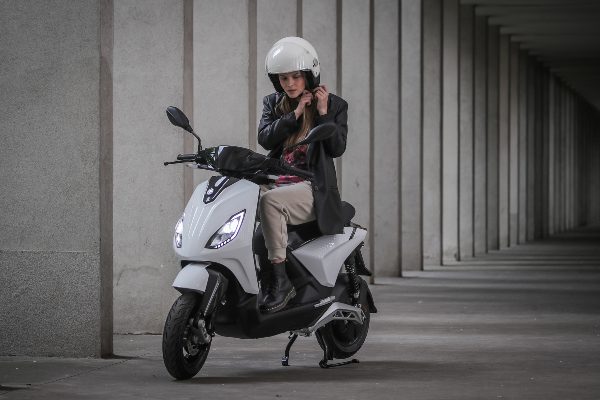 What's included in moped hire at Wheels to Work?
Blogs
Your weekly fee
We get asked all the time what's included in the Wheels to Work hire package. When you first apply with us, we take all the details we need to provide you with a weekly hire quote. Fees start at £51 a week for 50cc and £57 a week for a 125cc.
Now, you might be asking what exactly do the payments cover? Is it just the hire of the scooter? Do you need to source anything yourself?
We think Wheels to Work is the best out there in terms of affordability, convenience and 'getting your money's worth'. Your weekly fees will cover more than just riding the scooter.
In this blog, we'll outline exactly what's included. We'll also show you a few things we can help you out with for a little extra.
Servicing and maintenance
As part of the package, Wheels to Work will give you a servicing schedule for your scooter. We place it under the seat and recommend you keep it there at all times.
Depending on what scooter you receive, when you need to book a service in can differ. We always ask that you give us a weeks' notice and inform us when the bike is 100 miles away from needing a service. There is a sticker on the underside of your seat that tells you what mileage your scooter needs servicing at.
We will bring you a new bike when we come to collect your current one for servicing. This way you do not go without transportation to get you where you need to be.
It is essential that you service the scooter at the appropriate times. Failure to do so may invalidate the bike's
warranty and could add additional costs to your account.
There's also information on the sheet about tyre tread/depth, oil other vital maintenance checks.
We ask one thing of our customers – please treat your scooter the same as you would your own vehicle.
Delivery and pick-up
There are no additional fees for the delivery of your scooter.
We will have to drop your first scooter off at your home address. We need to see where you store the bike overnight and when you are at home.
During the application process, you will provide us with your correct homeaddress. Also, your licence must display this otherwise we cannot hire
to you.
We can then arrange pick-ups and drop-offs elsewhere, like your place of work or the address of a family member.
Insurance
You do not need to find your own insurance when you hire with Wheels to Work. Third party insurance is covered by one of our providers as part of your weekly fee.
You are not insured to use the scooter for business use, such as courier or delivery work. You are also not able to ride with a pillion passenger. If you are caught or reported to be doing either, we have the right to terminate your hire with us.
Emergency breakdown cover, MOT & road tax
If your scooter needs immediate attention and recovery, breakdown is covered in the fee.
Their number is on the service schedule under your seat, and they operate at all times. Feel free to call in to our office and report the issue at first. However, we will most likely recommend you call breakdown to see
if they can assist.
You might be quite far away from us or we may have no vans available to reach you. The breakdown cover gives you a
safety net should anything happen during your hire.
Our working hours are 9AM until 5PM, so if the issue occurs outside those hours you must call breakdown.
And as an added bonus, your weekly fee also includes MOT and road tax.
Monthly mileage limit
Your weekly hire covers you for 750 miles a month. Bear in mind when your scooter needs servicing, especially if your scooter needs a first service.
We track the scooters so we will be ale to see yourmileage. You won't be stopped when you reach 750 miles, but we will charge you extra. This will be calculated and added to your weekly fee.
If you're looking at doing around 1,000 miles or more a month, you'll need to look elsewhere for your hire.
What else can we help with?
If you're in need of clothing or protective gear, let us know. We'll send you a link to one of our suppliers, and you can pick the gear to fit your budget. They also offer us a discount, and we'll let you know about stock availability and overall price.
If you find what you like, we'll ask you to pay for the items upfront. They will then be with you when they arrive at our office, and we can deliver it with your scooter.
We can also recommend you CBT centres if you are looking to take a course. You must have a valid CBT certificate if you want to hire with us.
In conclusion…
At Wheels to Work, we want to help you out anywhere we can. Getting you back out on the road and where you need to be is a priority.
We feel that what's included in our hire package is everything and anything you could want. Not only that, but customer service to us is vital so if you have any issues, please let us know.
We hope this blog has given you a better understanding of what we can give you.
Wheels to Work
Are you looking for a way to get back to work? Do you need an affordable and convenient transport solution?
Wheels to Work provides 50cc and 125cc scooter hire in Northants, Bucks, Beds, Berks, Warks, Leics and Oxon to support you getting to and from your place of work.
If transport is restricting you actively seeking employment, training, or an apprenticeship, or you work anti-social
hours, then hiring a scooter gives you independence and opportunity.
Training and protective clothing can be provided with the scooter too.
For further details, please call 01327 857213 or email info@wheelstowork.net. If you'd like to go ahead and apply, click here.