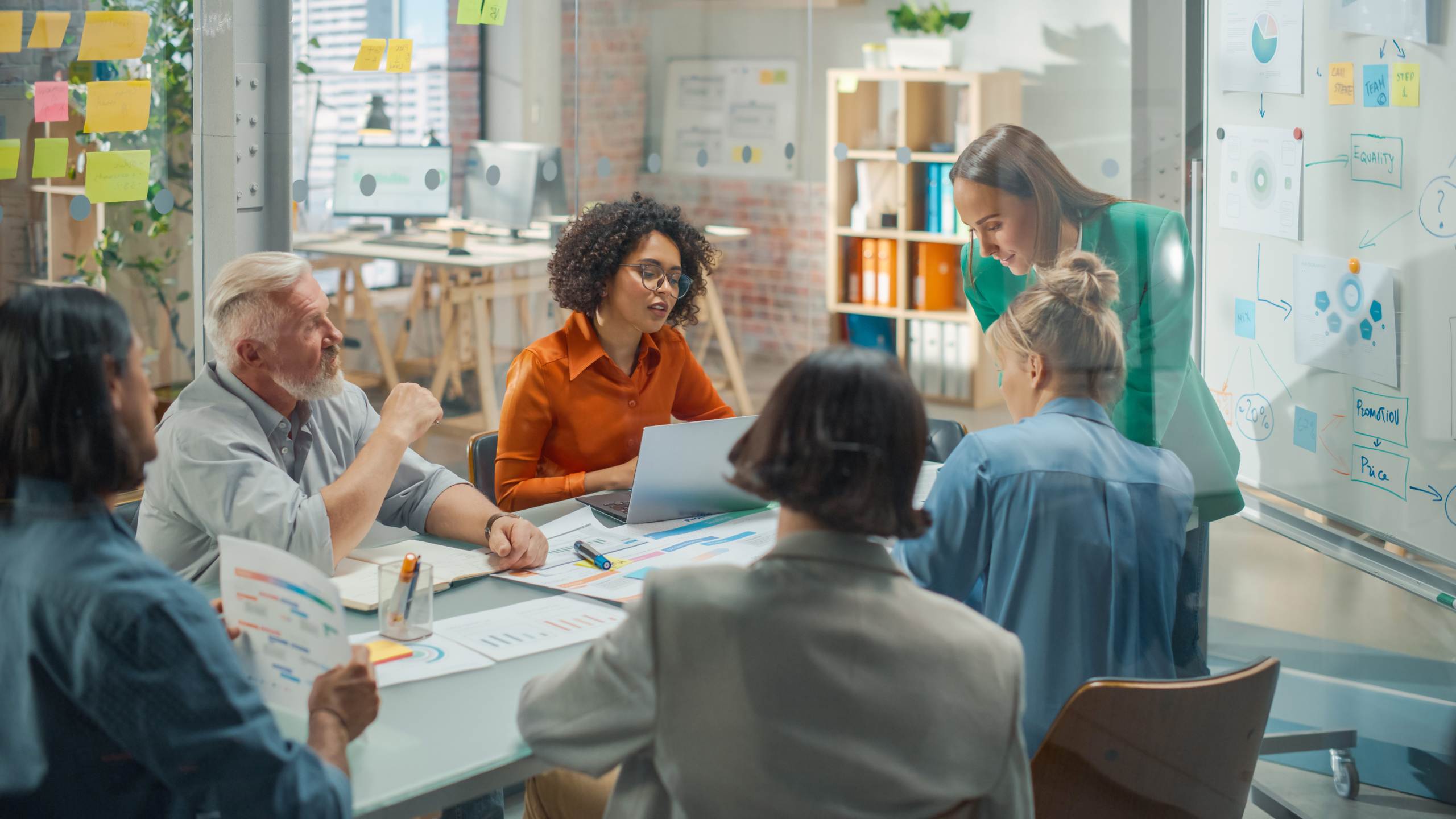 What is Domain Authority & Why Is It Important?
Blogs
The words 'domain authority' may just sound like more SEO jargon, but in actual fact, it's a really compelling metric that can demonstrate how authoritative your website is. Search engines like Google use hundreds of different ranking factors to determine your web pages' position in search engine results pages (SERPs).
As with many global tech corporations, Google has always been reluctant to reveal the inner workings of its ranking algorithms and complex decision-making processes. Google has been kind enough to provide best-practice insights that offer some degree of guidance into where you should be putting your SEO resources. Other ranking signals have been proven by SEO experts in the field, and others are purely speculation.
Let's take a look at what exactly your domain authority score is and what it isn't, and how you can adapt your SEO strategy to optimise it.
What is a Domain Authority Score?
Your domain authority or DA is a quantitative metric that predicts how likely your domain is to appear in SERPs compared to your competitors. Your DA score is not to be confused with Google's PageRank.
It's crucially important to note that, a common misconception believed by many marketers, is that your Domain Authority Score is used as a ranking signal but for Google, this is not the case. Your overarching DA score will not influence how your website and web pages appear in search engine results pages. Instead, your domain authority can be used as a solid indicator of how your website is performing against its main competitors.
Domain authority scores normally have a range of 1-100, with higher scores meaning a greater likelihood of ranking higher in SERPs.
Many different SEO platforms offer their own Domain Authority scoring system. The first to pioneer the tool was Moz, leveraging various factors in their calculations to offer you the strongest prediction of your authority. Alongside the other SEO tools, Moz's calculation utilises a machine-learning model to identify a 'best-fit' algorithm that correlates with vast amounts of link data. We'll cover why most DA scores are different for each tool a bit later on.
The Importance of Domain Authority Scores
Although disputed by many, your domain authority score isn't an empty metric, otherwise, the biggest SEO tools wouldn't have built their own comprehensive algorithms to generate them. Many influencers in the marketing and SEO industry may tell you to simply ignore your DA score because it cannot influence your positioning in search, but we believe your DA scores can be utilised in other ways instead.
Although DA scores don't correlate directly with your ability to rank on search engines, they can offer great insights into your overall SEO performance and share of visibility online.
Ultimately, your domain authority is important because it is representative of how you rank on search engines. Supporting you to better understand your website's credibility, particularly from the perspective of search engines. Of course, you shouldn't fixate on this too much either, your on-page content should be just as appealing to your audience.
Google's ranking algorithms, as stipulated before, still remain a bit of a mystery for us marketers. Your domain authority score can be used to learn more about how your website performs in the wider search landscape. This can unlock unique insights into how your key competitors are performing by comparison and unveil some new opportunities for you to steal more of their search visibility.
In addition to this, your domain authority score can be tracked over time too, offering you an insight into how your website has built its contextual strength.
How Are Authority Scores Calculated?
As noted before, there are various different online tools that can produce a domain authority score for your website. Each tool will likely evaluate a variety of your website's attributes, they'll measure the performance of each and condense their findings into a single score, normally ranked 1-100.
Your DA score is determined on a logarithmic scale, meaning individual metrics won't always increase or decrease your overarching score to the same degree.
The introductory tool, Moz calculates your DA by evaluating multiple factors including your linked root domains, the total number of backlinks, and the strength of those links. Their formula will then generate a score.
Semrush leverage a slightly different setup, notably the name is different, they refer to their score as 'Authority Score'. According to Semrush, their score is a "compound metric used for measuring a domain's or web page's overall quality and SEO performance". Semrush utilises a neural network algorithm that runs similar processes as Moz, analysing your domain based on quality, popularity and backlink signals.
What's Considered A Good Authority Score?
There are a wide variety of online tools that can perform formulaic evaluations of your website, each of which will use its own parameters and scoring scale. Usually, however, any score close to 0 means your domain is incredibly weak.
Studies have suggested that greater domain authority scores increase the likelihood of increases in web traffic and SERP rankings. With that said, we must remember that your DA scores should be used as a comparative tool, not to determine whether or not a domain is 'good' or 'bad'. For the most relevant comparison, you should evaluate a domain's authority score in relation to similar websites in the same sector or industry.
If you're looking to launch a new website you can expect to start your journey with a DA of 0 or 1 depending on the tool you use. Whereas, bigger more established websites with higher external links tend to receive higher DA scores.
Why Do Authority Scores Change?
As with most things in the SEO world, you should always expect your metrics to fluctuate. These fluctuations will not always be in your control, and sometimes these changes are a reflection of adaptations you've made to your website. Such as adding in new high-quality content or receiving an influx of quality external links.
Google uses various different ranking signals and factors to determine rankings, the DA evaluation tools aren't any different. To make as accurate approximations as possible, tools like Moz and Semrush have to explore similar complex factors.
Your domain authority score is made up of multiple moving evaluations of your domain so it can be difficult to identify any one cause of why your DA has risen or dropped over time. Pinpointing the exact cause of a change in your score is a significant challenge, but here are some examples of why it may have happened:
More or fewer linking domains have been crawled in the latest crawl of your website
If your DA is on the lower end of the scoring scale, you might be impacted by scaling fluctuations
Site migration or domain-level changes
The higher, competitor websites experienced substantial link growth, skewing the scaling process
Your link profile growth hasn't yet been captured by the tool
Remember though, it's totally normal for your domain authority to change and fluctuate! Obviously, your goal should be to maintain or increase your DA score, but you may find you see drops from time to time, and that's completely fine. It's likely these drops are nothing to do with the activities you're carrying out as a marketer.
How-To Improve Your Domain Authority
Some of the best ways to increase your domain authority score are by doing the things you should already be doing within your SEO activities. If you're just getting started with SEO and looking to rank better than your competitors, here are some of the best tactics to get you started:
1. Launch A Link-Building Strategy
This one is a lot easier said than done but definitely worth your time. Whilst the verdict isn't out on its effectiveness, link building remains to be one of the go-to tactics in any SEO expert's arsenal. A link-building strategy is essentially the process of obtaining hyperlinks from other websites that send users to your website.
Google will then use these links to crawl the web, learning all the while how websites and webpages link together. Mastering the art of effective link-building has the potential to enhance your SEO, DA score and your organic positioning search. Top tip – always prioritise obtaining relevant backlinks, search engines will be quick to identify any dodgy methods and potentially penalise your website.
Guest blogging, infographics, editorial links and broken link building are all great examples of best-practice link-building strategies still utilised by many SEO experts in 2022.
2. Creating Quality Content
As a marketer, you should definitely be leveraging this tactic already! By creating a consistent stream of high-quality and valuable content you'll increase your opportunities to earn natural backlinks to your website. These natural links will likely come from relevant and authoritative websites looking to provide additional value to their visitors.
Updating your existing, older content is also a great way to enhance your opportunity to earn new links to your website. By conducting a content audit, you can identify pages that have been unindexed or have low page authority scores and add new information that is of interest to the user.
3. Competitor Research
One of the best ways to get ahead of your competitors is to look at what they are currently doing differently to your business, online of course. You'd be surprised at the number of opportunities that could come out of an analysis of others in the same market.
From where they receive the most backlinks to the types of content they post, you can discover various opportunities that have not yet been explored yet by your business.
4. Get Listed In Directories
A simple way to improve your Local SEO and your overall DA score is to list your business in online business directories. This process is called citation-building and is a crucial part of any SEO strategy. By building these citations, you'll enhance your opportunity to be visible for various search terms relating to your business and industry.
You might hear 'business directories' and immediately think of the old Yellow Pages book you used to have by the phone, but things have evolved so much since then. Modern directories include your Business Profile on Google, TrustPilot, Facebook and many other websites.
5. Getting Rid of Toxic Backlinks
Backlinks can impact your website's authority online, with both positive and negative effects. backlinks from low authority and spammy websites can have a drastic effect on how Google ranks your site. The Penguin algorithm update back in 2012 implemented a huge crackdown on bad backlinks manipulated by those carrying out unethical SEO tactics.
The good news though, tools like Moz and Semrush will identify 'toxic links' to your website and place them in a clear audit for you to review. Once you've established the 'bad links' that are currently associated with your website, the first point of call would be to reach out directly to the website and ask for them to remove the link.
If all else fails you can use tools like Google's Search Console to disavow these links. When you disavow a link, you are essentially asking Google not to include that link when assessing your website. Be warned though! Use this as a last resort though as Google has outlined, improper use of the disavow tool can harm your website's performance.
Search Engine Optimisation at Loop Digital
For more information about Search Engine Optimisation and how you can effectively grow your business's online visibility, check out our free, downloadable SEO guide today. Whether this is the first time your business is learning about SEO or you've already got a good idea of the plan you'd like to implement, reach out to our team today to discuss your vision.