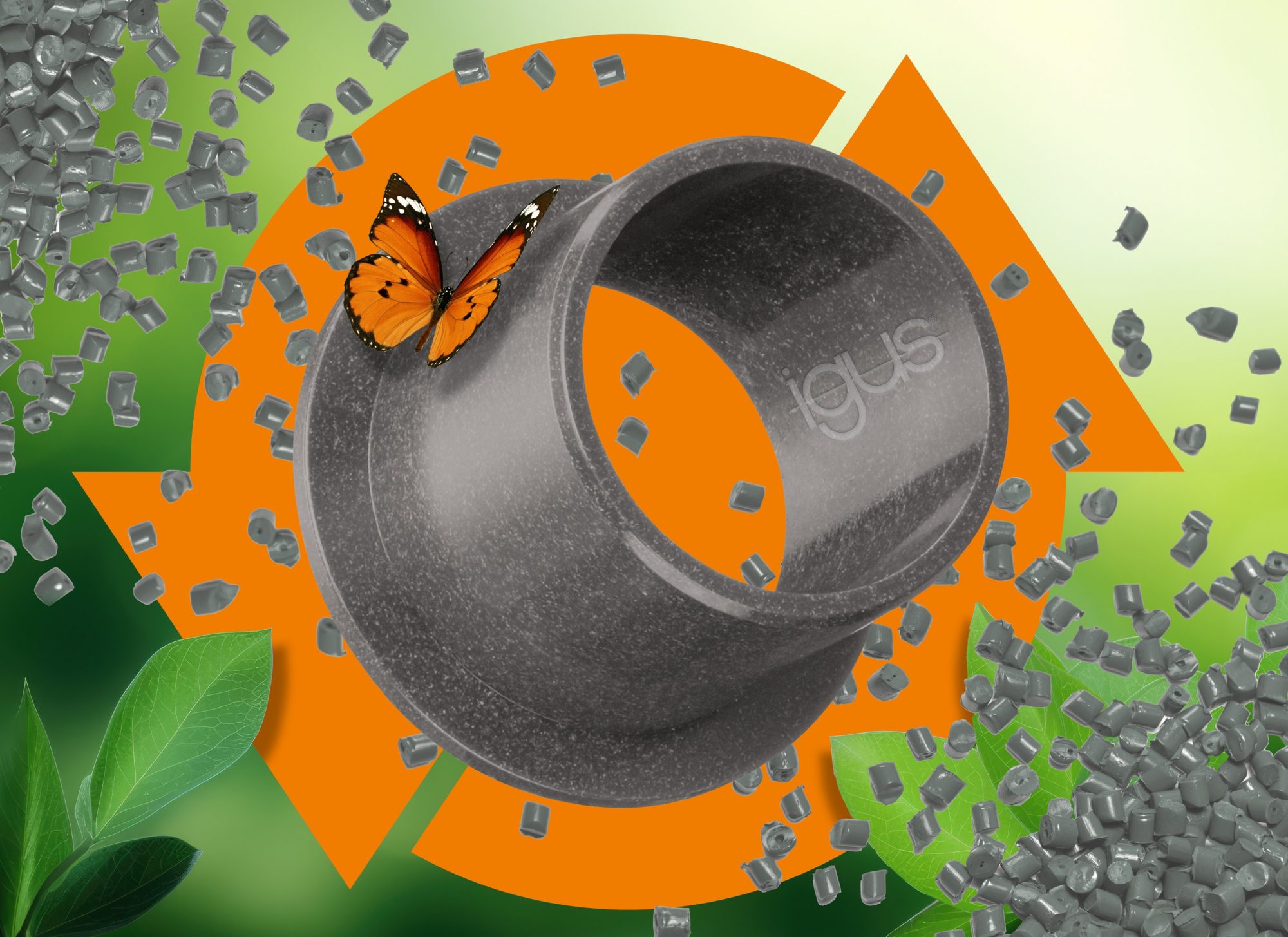 The new igus recycled bearing is unveiled
The iglidur ECO series is expanded to include a chemical-resistant ECO P210 variant
igus knows that plastic is a valuable resource and waste must be minimised, so it has launched a regranulated compound for the iglidur ECO plain bearing series from sprues and missing parts from injection moulding production.
Launched in October 2023, the new iglidur ECO P210 plain bearing is suitable for applications that regularly come in contact with chemicals ­­– from agitators and laboratory mills to filtration equipment and car washing. The maximum recommended surface pressure is 50 MPa at room temperature, equivalent to a pressure of five tonnes (5,000 kg) per cm2. The temperature range for applications is between -40°C and +100°C. External lubrication with oil or grease is not required, as is the case with all plain bearing materials from igus, because solid lubricants are integrated into the material for low-friction dry running.
Laboratory tests prove power of the ECO series
"In our in-house laboratory tests, we showed that plain bearings made of this regranulate delivered almost the same performance as the conventional iglidur P210 series," says Rob Dumayne, drytech director at igus UK. "They are similarly resistant to edge pressure as well as shocks and impacts, with only minimal compromises. This means that the ECO variant is also suitable for a large range of standard iglidur P210 applications."
igus provides an online tool to calculate the bearing service life precisely. Customers can quickly find out whether the ECO variant will work in their specific case. ECO P210 is the fifth member of the iglidur ECO series, which also includes ECO H, a material for corrosive and hot environments, ECO P, a material with low moisture absorption for outdoor applications in high humidity, ECO G, an all-rounder material and resistant to high loads, and ECO A180, a particularly cost-effective plain bearing. "All ECO materials consist of at least 97% regranulate, showing our commitment to reducing plastic waste," emphasizes Dumayne.
igus drives transformation to a sustainable circular economy
The development of the ECO series is part of igus' sustainability strategy. Among other things, the motion plastics specialist now publishes the CO2 footprint of its best-selling iglidur materials. This allows customers to select and compare the bearing with the lowest CO2 footprint for their application. igus is striving to transform the classic linear economy for plastics into a sustainable circular economy. For example, igus not only relies on recycling, but also on innovative technologies, such as those from Mura Technology, in which igus has substantially invested. The British company is developing a process to turn plastic back into crude oil using water, high temperatures and pressure. Its new UK factory is expected to be formally opened in November