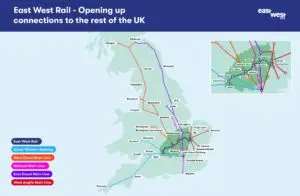 See how EWR would make it easier to get out and about across the UK
Get a better look at how EWR would open up new connections and opportunities to get out and about across the UK.
We've published new materials which show some of the UK tourist hotspots that will be easier to reach once East West Rail (EWR) services are up and running. EWR will have intersections with the UK's key railway routes, meaning some of the nation's most loved destinations would be within easier reach of local communities in Oxford, Bletchley, Bedford and Cambridge – offering more options and shorter journey times.
Once the whole route is opened up, East West Rail will connect with five major rail routes: Midland Main Line, West Coast Main Line, East Coast Main Line, West Anglia Main Line and connections to the Great Western Railway. These interchanges – particularly with the East Coast Main Line – will bring some of the UK's major cities, national parks and areas of outstanding natural beauty one step closer for communities along the route.
If you fancy venturing a little further afield, the interchanges would also unlock access to other UK airports with links to the likes of Stansted Airport, Luton Airport and Birmingham International.
The UK-wide opportunities that EWR offers for improved leisure travel during school holidays are in addition to the promising boost that EWR will bring to tourist hotspots along the route. Whether it's skiing at the Xscape in Milton Keynes, a trip to Center Parcs in Bedfordshire or shopping at Bicester Village – EWR will help people access more leading attractions in the area.
Head over to our Community Hub where you're invited to vote for where you're most excited to visit once EWR is up and running here.