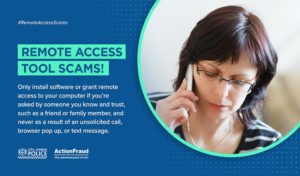 Remote access scams targeting businesses
Action Fraud has received 31 crime reports since June 2023 relating to remote access scams targeting businesses. Victims have reported losses totaling over £3.8M.
Based on analysis of crime reports by the National Fraud Intelligence Bureau, we know that scammers will generally use the following tactic to target businesses:
Contact the victim claiming to be a representative from their bank or from a financial services vendor used by the victim's business.

Convince the victim to install a piece of software that enables remote access to their computer, claiming that it's required to install an important software update.

At some point during the call, the victim is instructed to login to their online banking account. Once the victim has done this, the remote access software is used to blur the victim's screen whilst the scammer makes fraudulent transactions from the victim's account without their knowledge.

The victim is also asked to read out a series of numbers the scammer claims they have sent to the victim's mobile. In reality, the numbers are a one-time verification code from the victim's bank which, if shared with the scammer, will allow them to transfer money out of the victim's bank account.
Some victims reported a slightly different account of how the scam was perpetrated. However, the goal of the scammers usually remains the same – to convince victims to login to their online banking account whilst the scammer has remote access to their computer.
How to protect your business from remote access scams
Your bank will never ask you to grant them remote access to your computer or smartphone. Never install any remote access software on your device as a result of an unsolicited call, browser pop up, or text message.

The one-time verification codes sent to you by your bank to authorise transactions on your account should never be shared with anyone, not even bank employees.

If you believe your laptop, PC, tablet or phone has been infected with a virus or some other type of malware, follow the National Cyber Security Centre's guidance on recovering an infected device – https://www.ncsc.gov.uk/guidance/hacked-device-action-to-take

Received a suspicious call from someone claiming to be from your bank? Hang up, wait a few minutes, then call your bank using the contact number on the back of your debit card, or use the contact information on their official website or app.
If your business has fallen victim to fraud or cyber crime, report it to Action Fraud at www.actionfraud.police.uk, or by calling 0300 123 2040.
If you are a business, charity or other organisation which is currently suffering a live cyber attack (in progress), please call 0300 123 2040 immediately.
Security Awareness Training
Employees are a company's greatest asset but are targeted by increasingly sophisticated scams. With our security awareness training, your staff can become highly effective barriers to cyber crime.
Our security awareness training helps staff understand their working environment, giving them the confidence to speak up when something doesn't look right.
To talk to us about getting your staff trained, or to find out more about the service, contact us here or email info@emcrc.co.uk.