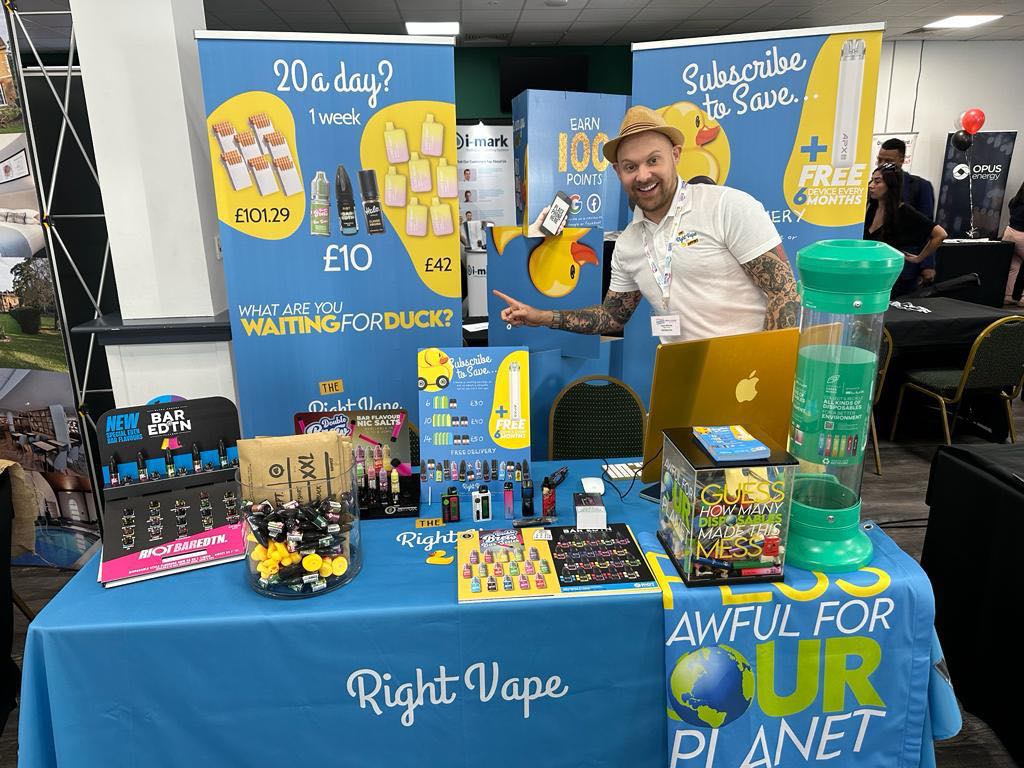 Our First Expo Experience at the Northamptonshire Business Exhibition!
As a local business, we always strive to support and promote our fellow local business community. The Northamptonshire Business Expo was the perfect opportunity to offer our support and network with those throughout the county leading for change within their industries!
One of the main reasons we attended was to raise awareness of our stop smoking support services and spread the word on safer vaping. At Right Vape we have always prioritised the wellbeing of our customers, we don't believe in the current twisted narratives that vaping should just be seen as a casual and fashionable hobby for non smokers. This view sets our industry back in our eyes, even the introduction of vaping itself was aimed at offering a safer alternative to helping those who smoke cigarettes gradually cut down their nicotine usage and subsequently quit smoking for good.
The end goal is to live a smoke-free life and we were honoured to be able to convey this message at the expo. Many attendees were curious about our business of course, who would expect to see a vape shop at a local business event? This is where Right Vape comes in as we always break the norms and keep our vision at the heart of our messaging and work. As well as showcasing our wide range of high quality products, we were able to offer guidance to those who were curious about vaping and interested in exploring the healthier alternatives to traditional smoking. We also delved into the variations of vape devices including those with coils and pods, additionally highlighting the types of e-liquids and their endless selection of flavours.
Although current vapers were present, many were unaware of quality control within the industry. Little was known regarding the dangers of cheaply manufactured, non-UK/EU compliant products that cause more harm than good. With all of our information coming from recognised health organisations and regularly updated, we accomplished our goal of raising awareness and providing education.
This opportunity was not just focused on promoting our business however, we utilised the ability to be able to speak with other professionals. Northamptonshire as a county contains a diverse range of booming industries and sectors and with a selection of those gathered in one place, this provided a great platform for us all to network and develop working relationships. We were privileged enough to have made a huge amount of connections from this event and look forward to keeping in touch. Above all we loved the freedom to meet and speak with other members of The Northamptonshire Chamber of Commerce. Our local chamber plays a crucial role in elevating local businesses.
The sense of community we felt during this event was like nothing we had ever experienced before. The event was a great success for all involved, as we could not have asked for anything more during our first expo. Operating within our niche industry we are usually not expected to be a part of things like this, however as mentioned Right Vape is a lot more than your average vape shop. Our focus is not on making a quick sale and watching our customers leave clueless and uninformed, we offer the right vape and support for each individual. A huge thank you to the Northamptonshire Chamber of Commerce for putting on such a lovely and well organised event as well as continuously using their resources to uplift our local businesses. We cannot wait for the next event and hope to see you all there!
The Right Vape, The Right Support, The Right Time
If you're interested in stopping smoking, learning more about safer vaping or need support to quit smoking, visit us in store today: https://maps.app.goo.gl/YVTL62nT1yKgaSsq7
We have a friendly, knowledgeable team who are dedicated to providing the best guidance tailored to you and your smoking habits: https://rightvape.net/