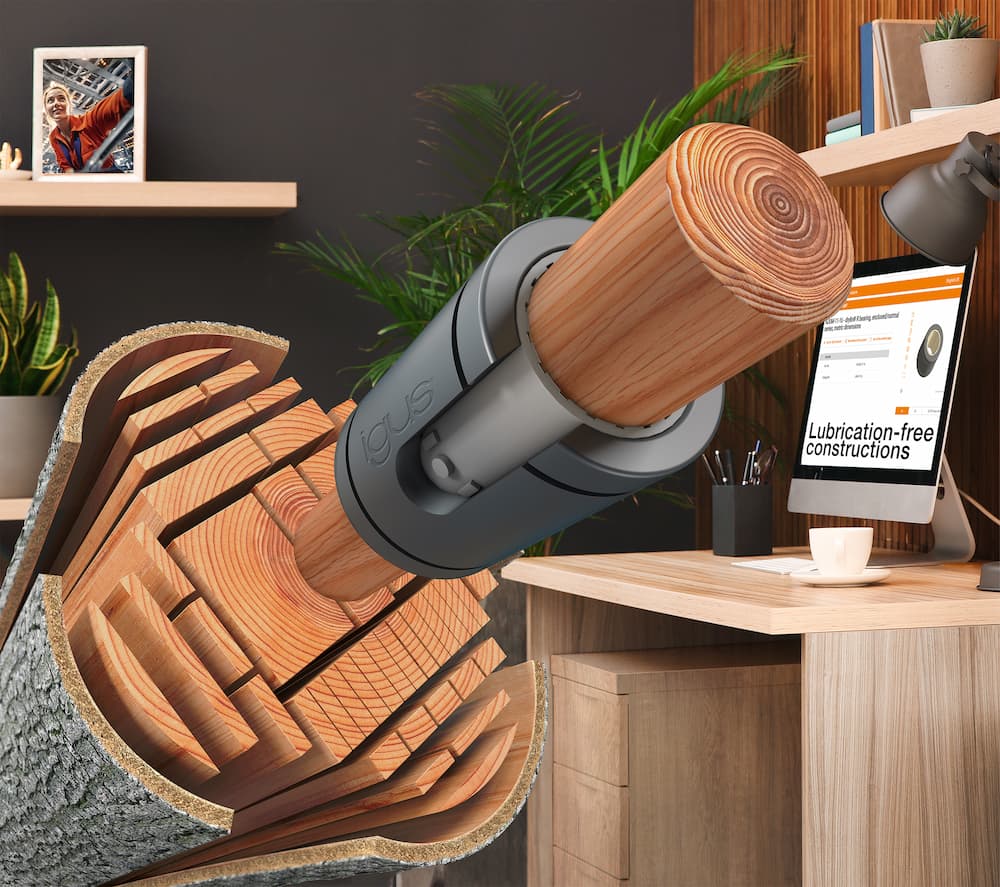 igus tests plastic bearings on wooden shafts, finds friction values comparable to some metals
A new design study by igus demonstrates how smooth linear plain bearings made of recycled material work when fitted on wooden shafts. Drylin Econ-G bearing J4 proves to be a winner with wood
Is wood and plastic a good combination in engineering? Motion plastics specialist igus has investigated this question in a new design study, testing the friction and wear behaviour of its plastic linear bearings on a wide variety of wood types. The results are impressive. The drylin Econ-G guide bearing J4 proved to be a good mating partner for many woods. The partnership opens new possibilities for furniture makers and product designers in the choice of their materials.
The material iglidur J4 is an igus plastic that consists of up to 97% recycled granules, reducing its CO2 footprint by at least 60% compared to standard plastic bearings. As an economical and lubrication-free linear plain bearing, iglidur J4 has already proven itself as a good, wear-resistant running partner on soft shafts such as aluminium and carbon fibre. And now a new and perhaps unpredictable material is being added: wood. Rob Dumayne, drytech and bearings director at igus UK, explains how the idea came about: "We wanted to think of sustainability through to the end. We have been working with recyclate for our maintenance-free high-performance plastics for years. Now we thought about how we can also replace the material, used for the shaft, with a sustainable solution – and wood was an obvious choice."
The customer receives a completely metal-free, lightweight and cost-effective linear guide. To determine the best types of wood from the diverse range of wood, bending strength tests of various woods were carried out. "Later, we tested various linear plain bearings on the wooden shafts and compared them with the values on steel shafts, all on the same test equipment and under the same conditions. The result was a bit of a surprise," says Dumayne.
Friction coefficients are comparable to steel and aluminium
The tests took place in the 3,800m2, in-house test laboratory at igus in Cologne, where igus puts products through their paces to the point of total failure. In the case of the wooden shafts, the determined wear values of iglidur J4 deviate only slightly from the results on steel or aluminium. With regards to the coefficients of friction, it became clear that wooden shafts with wooden bearings without lubrication tend to fail quickly, but a linear sliding bearing made of iglidur J4 can help to reduce the displacement resistance over long term use, and almost without noise.
Since wood is a working material that changes under temperature and humidity, the application should be tested thoroughly before use, preferably also in the igus laboratory where all variables can be controlled. However, the use of wood is highly recommended in places where environmental conditions are constant, such as in the interior design of houses and in furniture manufacture. Wood and plastic are not a brand new marriage: many igus customers already rely on plastic plain bearings as a counter partner to wood, not least because of the easy assembly and disassembly of the sliding bearing, which enable clean separation of the materials at the end of the product life cycle.