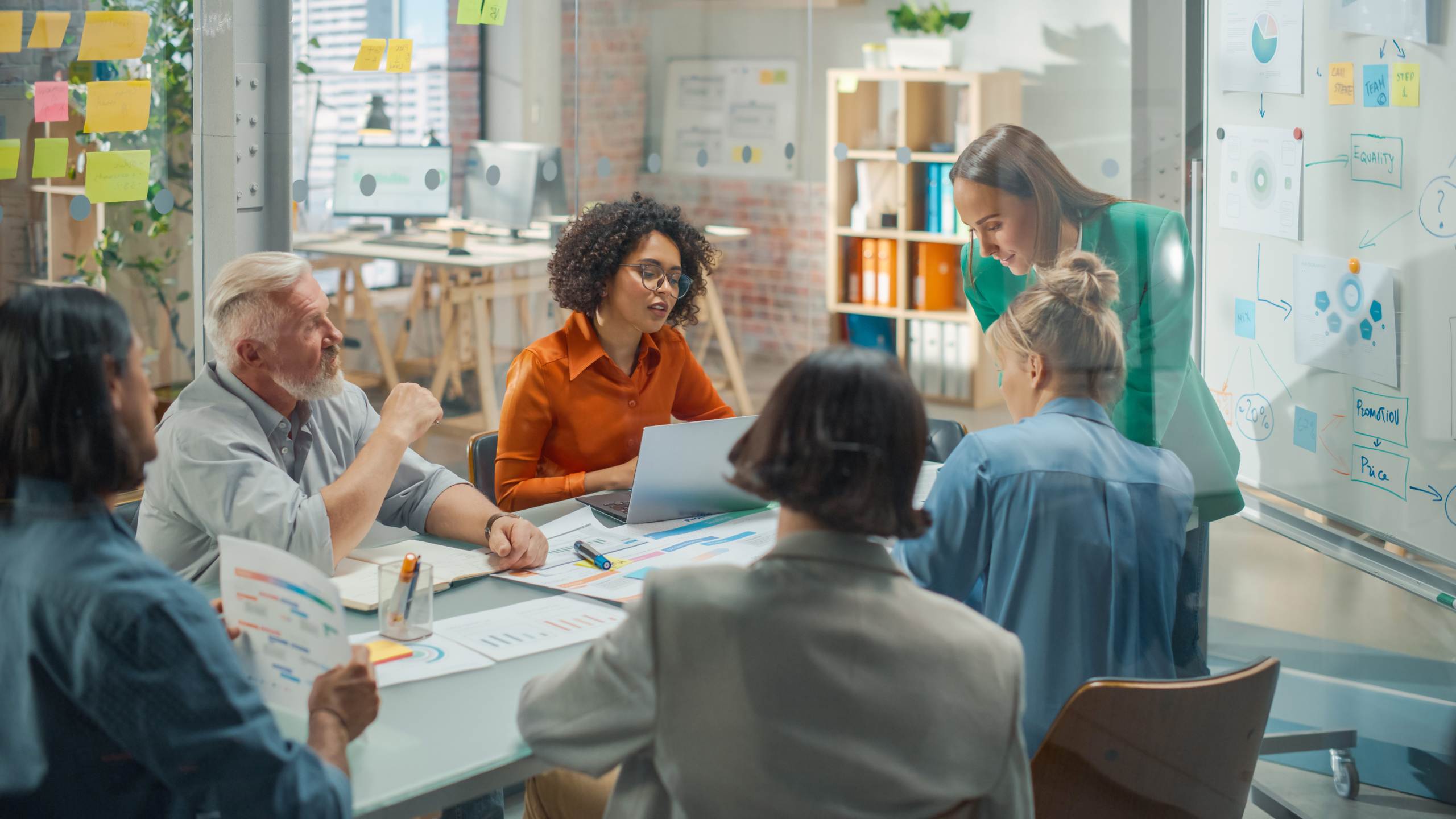 How to Use Google's Link Disavow Tool in 5 Easy Steps | SEO Guide
Blogs
If you're a marketer with any experience with SEO, you'll likely be familiar with what website toxicity levels are, as well as the impact a poor backlink profile can have on your website. Inbound and outbound links behold the opportunity to impact your website's organic visibility, but some aren't always good. In fact, backlinks from low authority and spammy websites can have a drastic effect on how Google ranks your site.
The Penguin algorithm update back in 2012 implemented a huge crackdown on bad backlinks manipulated by those carrying out poor-practice SEO tactics. These tactics commonly meant businesses were purchasing links in order to influence and rank higher in SERPs which as you can imagine, is a big no-no.
More so nowadays, the occurrences of trading or purchasing of links are far and few between. Today, the most common scenario is simply receiving backlinks from websites you don't want to be associated with. Unfortunately, the bigger your authority and visibility are online, the increased likelihood that spammy sites will start to link out to your website. This is probably the reason you've visited our website today.
So what can you do about spammy or generally back backlinks? Introducing Google's disavow tool, in this guide we'll be talking you through when and how you can use this tool to remove toxic backlinks from your site.
Before we get started, as a little disclaimer, we've outlined additional steps you should take before utilising the disavow tool, Google has and will continue to warn users that this tool is to be used sparingly and as a last resort only.
What is the Disavow Tool?
This tool was introduced way back in October of 2012 as part of Google's war on link spam. Today, not as many people use this tool as you may think, and the handful of people that do use it may be using it incorrectly.
Google defines the purpose of the tool as:
"If you believe your site's ranking is being harmed by low-quality links you do not control, you can ask Google not to take them into account when assessing your site".
The disavow tool is Google's way of allowing you to ask Google not to view certain links that point to your site. Essentially you are creating an 'invisible nofollow' tag for the link you choose to disavow.
Why You Might Need The Disavow Tool
So you might be wondering why you'd even consider disavowing links to your website? Well, a poor backlink profile can hinder your website's performance in search engine results pages, which ultimately could impact your ability to generate new revenue.
In addition to hindering your organic visibility, poor backlinks can harm your business's online reputation simply by association. In the worst-case scenarios, a significantly poor backlink profile would attract the attention of Google's AI tools that could implement a link-based penalty on your website.
'Good' vs 'Bad' Backlinks
When your website is associated with a trustworthy site via a 'good' link, search engines will recognise that you too are a reliable knowledge source. Building up a strong portfolio of trusted and ethical backlinks will help search engines identify you as a credible and more importantly, valuable website that they can then rank accordingly.
It's a given that some backlinks will inherently be more valuable than others, always consider this when having a look through your existing portfolio of links.
Unfortunately, a similar situation occurs with 'bad' backlinks. When your website is associated with poor, spam-like, or suspicious links, search engines could affiliate your website to the link's source. Depending on the scale of the problem, Google's trigger-happy robots could start rolling out algorithmic penalties without any human review.
In the long run, keeping the number of 'bad links' down, will help maintain your site as an authoritative source in the eyes of both your users and search engines, oh and to avoid the much-dreaded Google penalties.
Before Using The Google Disavow Tool
As we stipulated at the very start of this guide, Google remains consistent about its stand on the tool, issuing various warnings over the years about the improper use of its tool.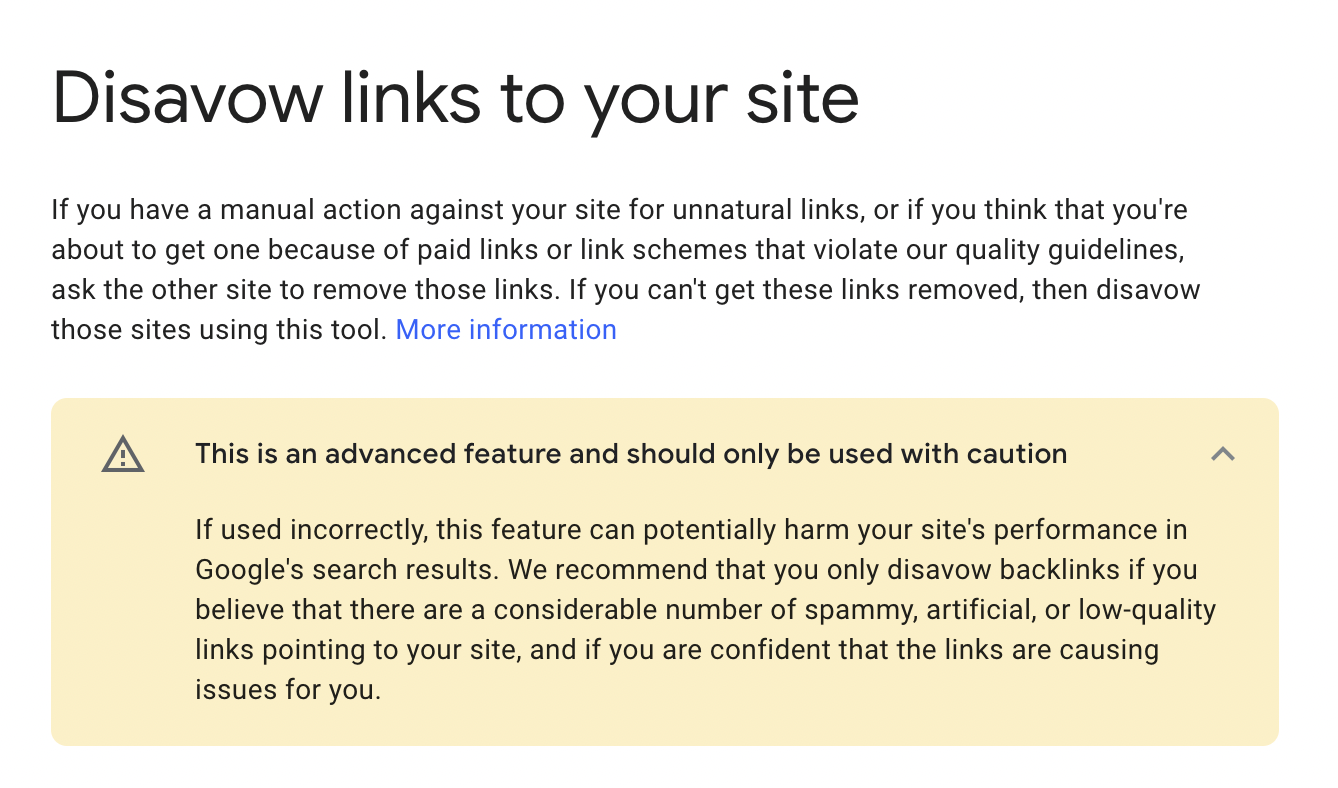 Google has been cited as actively encouraging users to seek other options before hitting the disavow button. Here's one of them:
Send a Removal Request to The Website
This might seem like a silly task, but sometimes it works. Noted by many SEO experts in our industry, the best approach is to speak to the source and request the link's removal. This doesn't have to be a long-winded task either, most legitimate websites will have clear contact information for you to reach the site's owner. Failing that, you can leverage the beauty of social media and reach out to the business that way too.
Best-case, the website owner acknowledges your request and removes the link. Worst case, you may not receive a response and now it's time to consider using the disavow tool.
How-To Use The Google Disavow Tool
Below, we've outlined five of the key steps to using the Google disavow tool safely and effectively.
Creating Your Backlink Audit
Review Your Backlink Audit
Exporting Your Disavow List
Uploading Your Disavow List
Making Sure You Upload a Concise, Useful List
Step 1 – Creating Your Backlink Audit
To start the process of disavowing harmful (or what you perceive as harmful) links from your site you will need to start by collating a list of all the referring domains that link to your site. There are several steps to take to collect all this information, for the purpose of this guide, let's run through how we create our lists:
There are lots of tools you can use, these two sites are great examples of tools that help with data collection – Majestic & Semrush. Ultimately the tool you use will be down the resources you have, but the ultimate goal here is to make sure you have a comprehensive list, with as much data as possible. For this walkthrough, we're going to be using the Semrush Backlink Audit tool.
So first things first, open up your chosen tool and paste in your URL or create a new property in the tool of your choice.

Once you have the information for your selected site loaded up, select the 'Backlinks' link. This will load up a list of all the referring domains that are linking to your site.

Step 2 – Review Your Backlink Audit
Now comes the long, manual part of this. You will have to go through all the domains manually to check if you want them linking to your site or not. You can use the additional data (Authority Scores) to help you determine where to start looking. Once you have decided whether or not you want to keep or disavow these domains, highlight or click on all the links you wish to disavow.

Step 3 – Exporting Your Disavow List
Semrush will then pull these domains into a Disavow list for you. Top tip! If you already have a disavow list for your website, you can also upload this (See circle) to ensure all the domains you wish to be disavowed are included.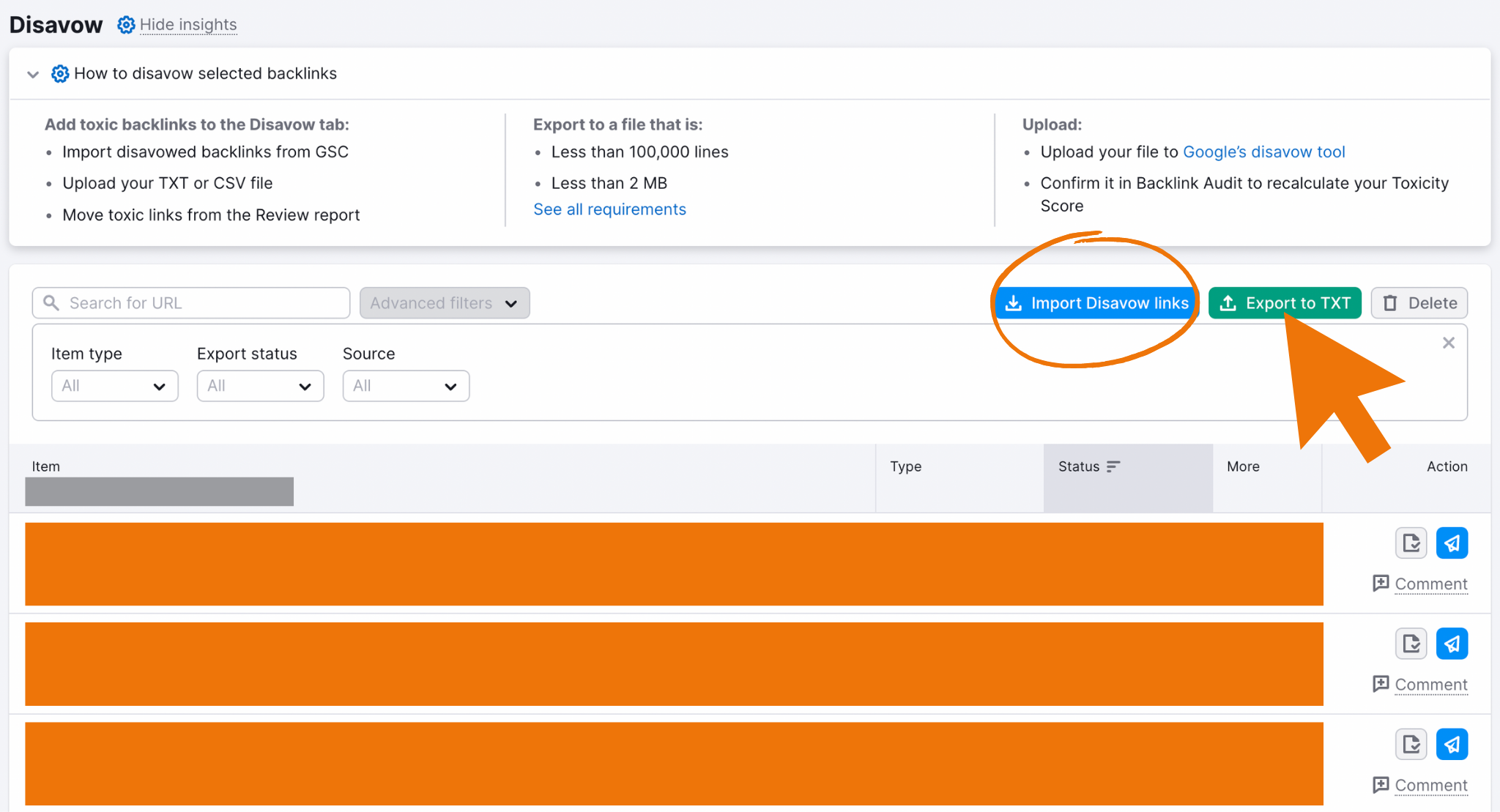 Once your happy with your selection and have absolute confidence that they are all correct, hit the 'Export to TXT' button. This will automatically download a list of domains you wish to be disavowed by Google that looks like the below. The Semrush tool will export this to a format that can then be directly uploaded to Google Search Console without requiring any editing.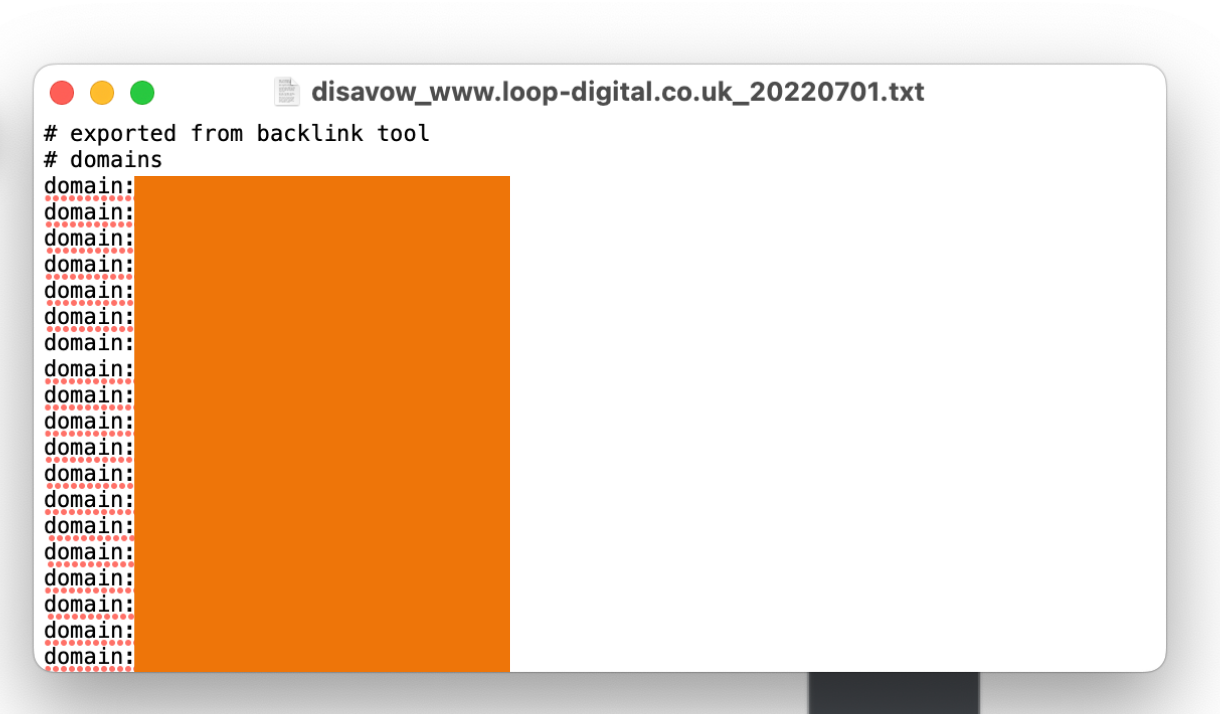 Step 4 – Upload Your Disavow List
Finally, head over to Google Search Console and select your property from the dropdown.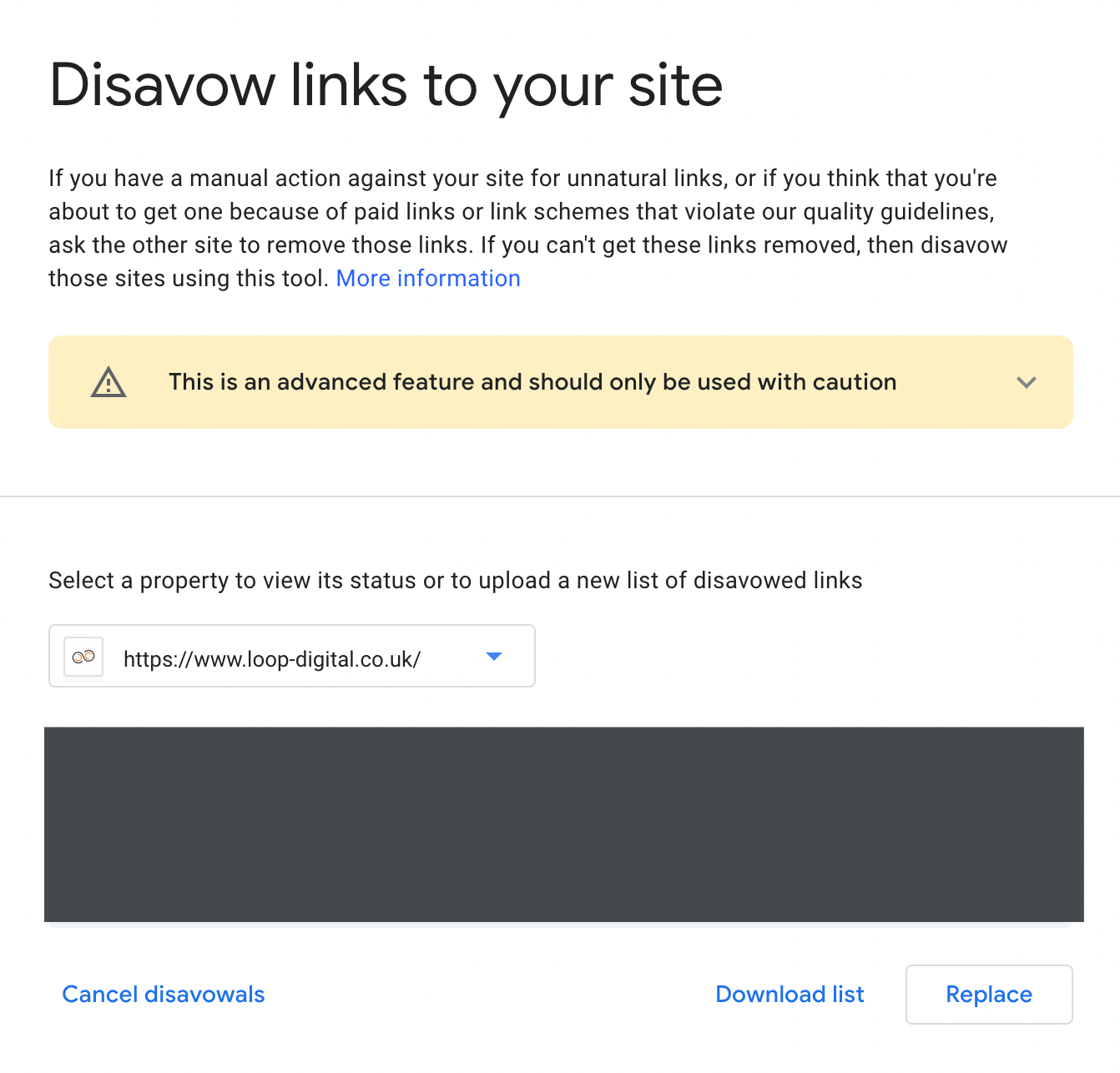 As we've used the tool before, we're presented with three options: Cancel Disavowals, Download List or Replace. For users who do not have an existing list uploaded, it will simply ask you to 'Upload Disavow List'.
Before you make your selection, if your site already has a disavow file, (now this is really important!) you will need to do one of the following:
Use the Semrush tool to import your existing disavowals, ensuring you have a complete list of the new and old domains you wish to add. Or…
Download the file already in the system and then MERGE your list with the original. This is due to the fact that your file would overwrite the original so all the previously disavowed domains would become void.
Save your new merged list with THE EXACT same name and then upload your file. If you are successful you will an update in the grey box acknowledging the number of domains and URLs disavowed.
Step 5 – Making Sure You Upload a Concise, Useful List
We've now explored the process of how to create, audit and upload your disavow list, we want to make sure you know some helpful tips to help you along the way. These will not just help you now but they will prove to be valuable tips to help in the future.
– As mentioned above, when you upload a new disavow file you are completely overwriting the old file. Make sure you take this into account as stated If your old file has 100 domains and you are adding 20 then your new file should have 120 domains disavowed.
– You are allowed to add a comment in your disavow file. These will never be read by anyone at Google, they are just used for yourself or other webmasters in the future. To do this you have to put your comment after the hashtag.
– Your disavowed links will still be visible in Webmaster Tools & other web crawling systems. So don't worry that it is not working, it is but the links are not deleted, they are just made 'invisible' so they do not influence your PageRank.
– You do not need to include any nofollow links as these do not carry any PageRank in the first place.
– You are able to re-avow your links should you wish. If you change your mind about certain links or added a domain in error then you can remove them from your list and just re-upload the list.
SEO at Loop Digital
At Loop Digital, we're continually updating our processes and guidance to follow the latest SEO recommendations. The process of removing bad links from your site should only be completed by those who are confident with the task at hand to avoid any issues. For more information about SEO and how to do it yourself, check out our downloadable guide.
If you need support with your SEO or wider marketing strategy get in touch with our team of experts today.