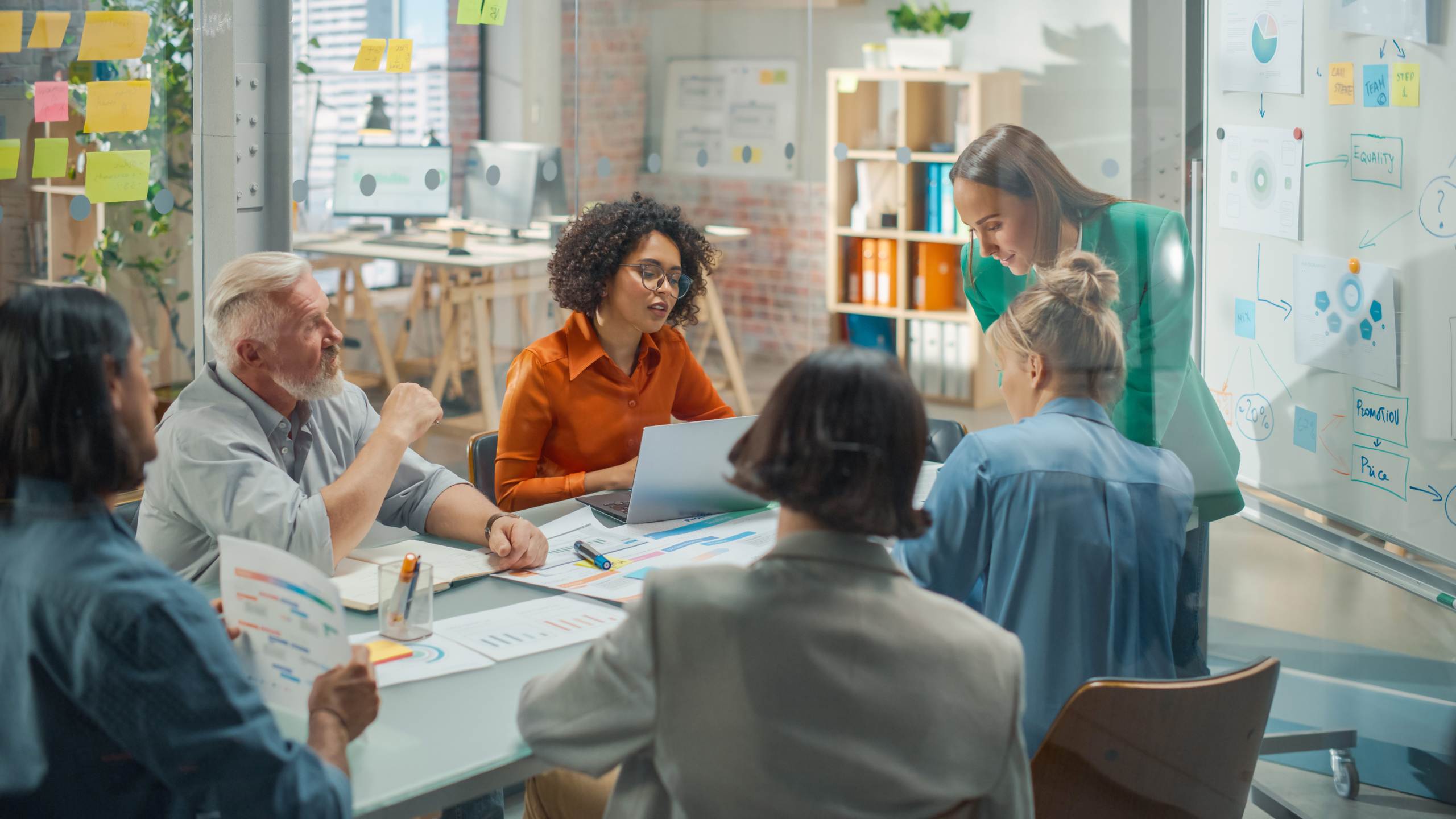 Evolis Primacy 2: Welcome To The Future of ID Card Printing
Blogs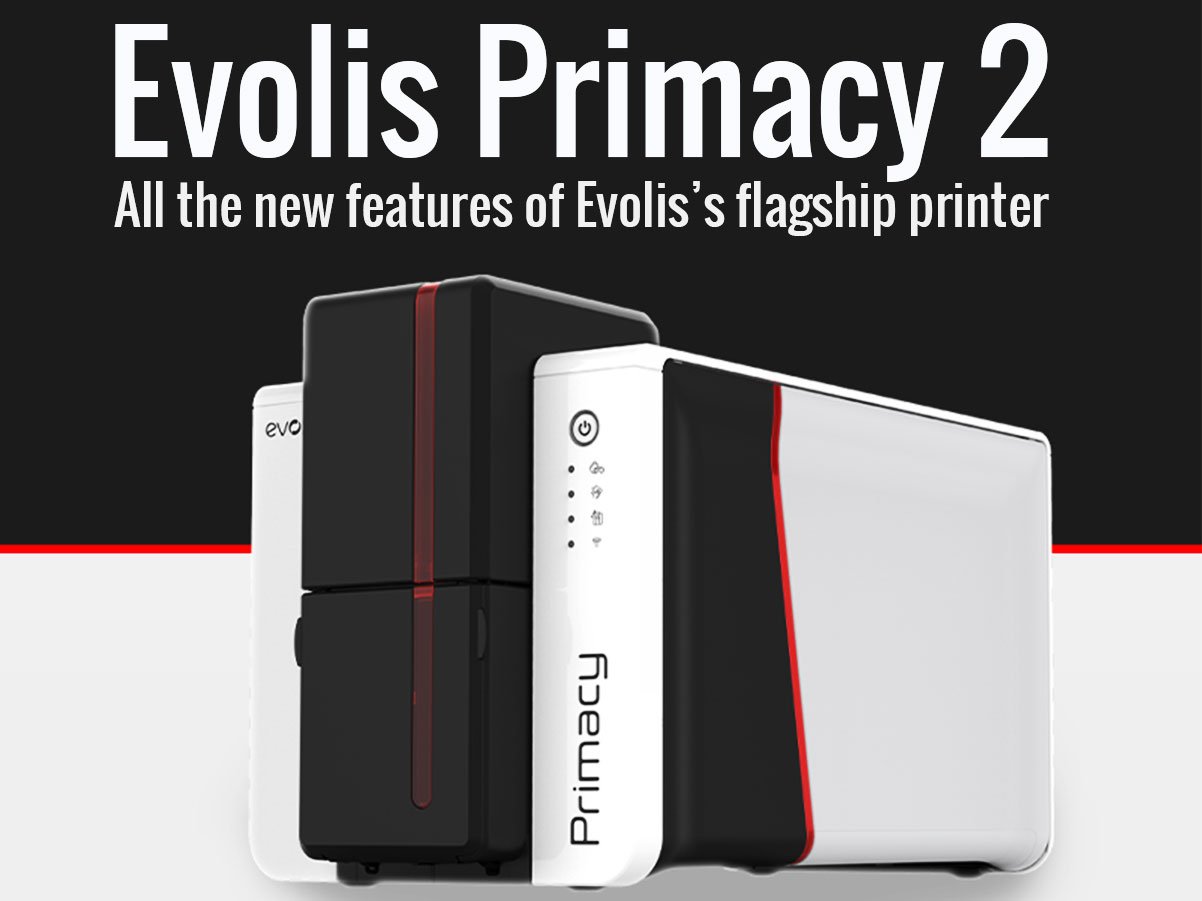 The Evolis Primacy 2 is a new and improved ID card printer that is loaded with a number of brand-new features and technology when compared with the original model. This printer has the capabilities to fulfil the needs of businesses large and small, including access control encoding, high-quality printing, and more.
Expanding on Evolis's flagship printer, the original Primacy model, the updated Primacy 2 is designed to support even more businesses with a wide set of printing applications and future-proofed technology – without sacrificing the security features or ease of use.
Why the Evolis 2 is the future
Evolis have updated the Primacy model to become the only ID card printer you will ever need. Every feature that is available in other Evolis models has been included in this powerful machine.
There are a range of features that have been improved upon since the original Primacy model, including:
• Print speeds – produce 280 cards per hour vs 225 on the original model
• Rewritable cards capability
• Colour profile for better colour matching
• UV effect and double overlay
• Digital erasing of data
• Compatible with Windows, Mac, and Linux (Windows only on the original model)
• Print from a computer, smartphone, and tablet (computer only on the original model)
There is also a range of optional add-ons that allow you to increase the productivity of your card printing, including:
• Kineclipse® to mask any sensitive data left on ribbons
• Mechanical lock to protect the ribbon from theft
• LCD screen with visual and audible alerts and support
• ID card security scanner
• 200 card input hopper for larger print jobs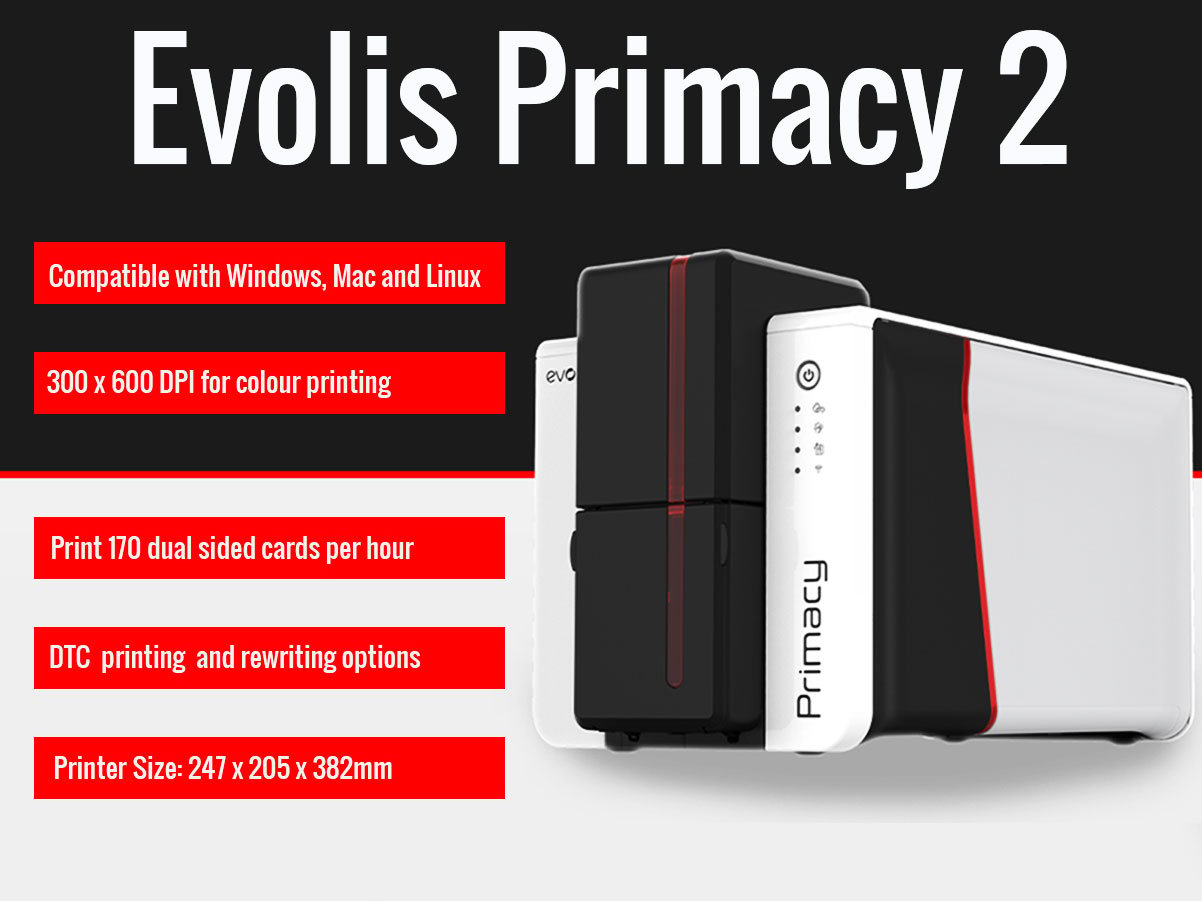 Features of the Evolis Primacy 2
The main factor that all ID card printers will be judged on is the quality of the ID card it produces.
The Evolis Primacy 2 offers direct-to-card (DTC) dye sublimation, resin thermal transfer and rewriting capabilities. Each ID card is printed edge to edge and can be printed on both sides if required. With a 300 x 600dpi resolution for colour and 300 x 1200dpi for monochrome printing, this printer can produce highly detailed and complex ID cards and single-use, monochrome rewritable cards. Whether you are creating cards for staff or visitors, the Evolis Primacy 2 can support your needs.
The Evolis Primacy 2 can print 280 single-sided colour cards or 170 dual-sided colour cards per hour. With an optional upgrade for an input hopper than can hold 200 cards at once, the printer can be trusted to handle large print runs consistently – and without the need for much manual processing.
The Primacy 2 is compatible with Windows, macOS and Linux systems. It can be used via USB and Ethernet as standard and comes with an additional wireless connection upgrade if required.
This means that the Evolis Primacy 2 is capable of continuous high-speed and high-quality printing.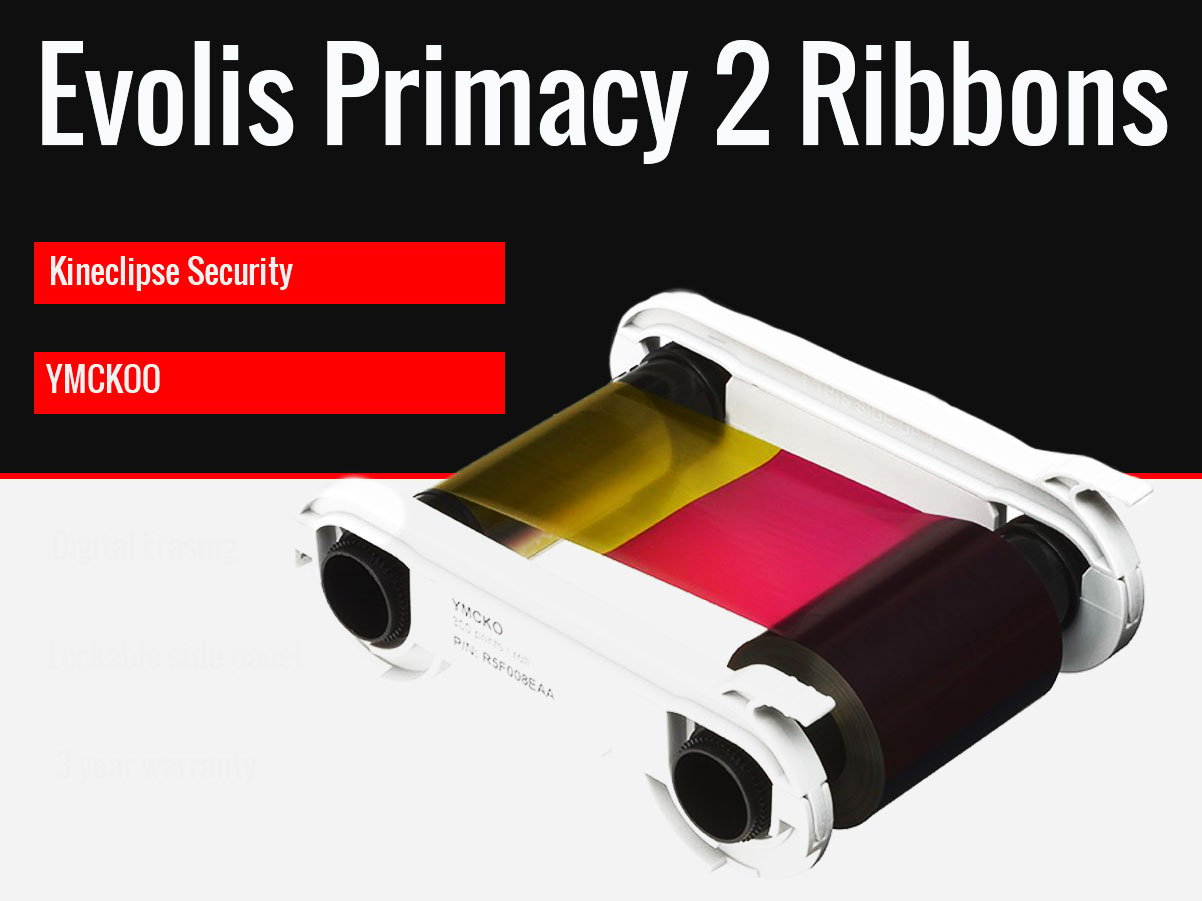 Compatible ribbons for the Evolis Primacy 2
To maximise the quality and durability of your printed card, the lifespan of the printhead and the overall printer reliability, always use Evolis High Trust® ribbons. These ribbons are easy to install and produce high-quality printed ID cards.
The Primacy 2 can also use a YMCKOO colour ribbon to provide the rich and vivid colours you expect from your printer. The YMC (Yellow, Magenta and Cyan) colour panels all combine to provide a kaleidoscope of colour that perfectly reflect your brand and card design, while the K (black) is a resin panel that adds fine detailing to the cards – whether that is fine text, line art, or barcodes that have a vital importance when it comes to card security.
The OO (two overlay panels) protects the ID cards with an extra layer, which protects the ID card against general wear and tear, scratches and fading from the elements.
These ribbons are internally protected with Kineclipse® technology, made to mask the information left on the ribbons. DTC printing can leave a 'shadow' of the information printed on the ID card, and due to the sensitive nature of the information, this can become a security risk and a target for fraud. Kineclipse® technology masks this imprint, increasing the safety aspect of this printer.
The side panel that houses the printer ribbon can also be protected with an optional lock and key upgrade, providing an extra deterrent to theft.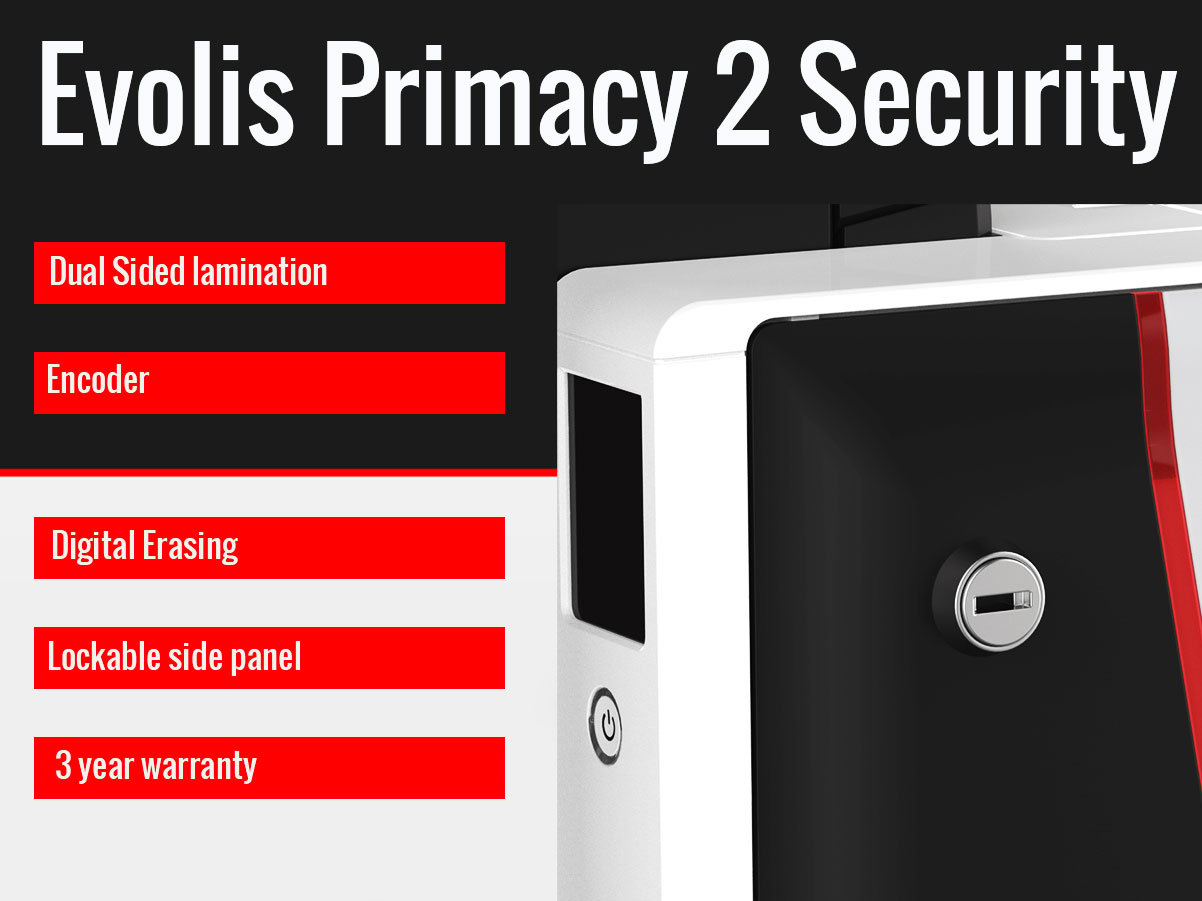 Security features and benefits
The extra focus on security features of the Evolis Primacy 2 is what separate separates this ID card printer from its competition.
As well as the dual overlay, the machine has the option of dual-sided card lamination and even personalised holographic laminate as an extra method to deter forgers.
The Evolis Primacy 2 has options for a magnetic stripe encoder, a contact smart card encoder and a contactless smart card encoder. This makes this printer one of the best ID Card printers for small businesses, with a high focus on security and staff access. Whether that is hotel room access cards, bank cards, or designs containing personal data, the Evolis Primacy 2 is perfectly capable of handling these data-sensitive tasks to the highest standard.
By their very nature, ID cards contain personal information, and regardless of how much information each card holds, this data is often highly desirable to forgers and fraudsters. The Evolis Primacy 2 has the optional added extra of digital erasing. Any sensitive information within the printer is digitally scrambled and destroyed, leaving you GDPR-compliant and secure.
These are not the only types of security available from the Evolis Primacy 2. The ID card printer comes complete with a 3-year warranty that provides the owner with the peace of mind and security that the machine will provide consistency for their business needs.
Suitability for your business
What makes the Evolis Primacy 2 the best ID card printer for a range of businesses is that it has a wealth of optional add-ons that you can choose to tailor your ID card printer to best suit your business requirements.
The Evolis Primacy 2's strength is in its versatility. It can handle any task your business requires, yet it understands that every business is different and not every feature is relevant to every business.
By choosing the latest model in the Evolis family, you are choosing to prepare for the future of ID card printing. If your business has a high turnover of cards required, this machine is built to prepare you for the high frequency with which you will need to print cards without compromising on the quality.
Not only is this the best ID card printer for small to medium-sized businesses, but the printer that can also grow with your business and still perform to the levels you expect as you continue to build your business and take it to new heights.
To find out more about how the Evolis Primacy 2 can revolutionise your ID card printing, please visit here or get in touch with a member of our expert team.