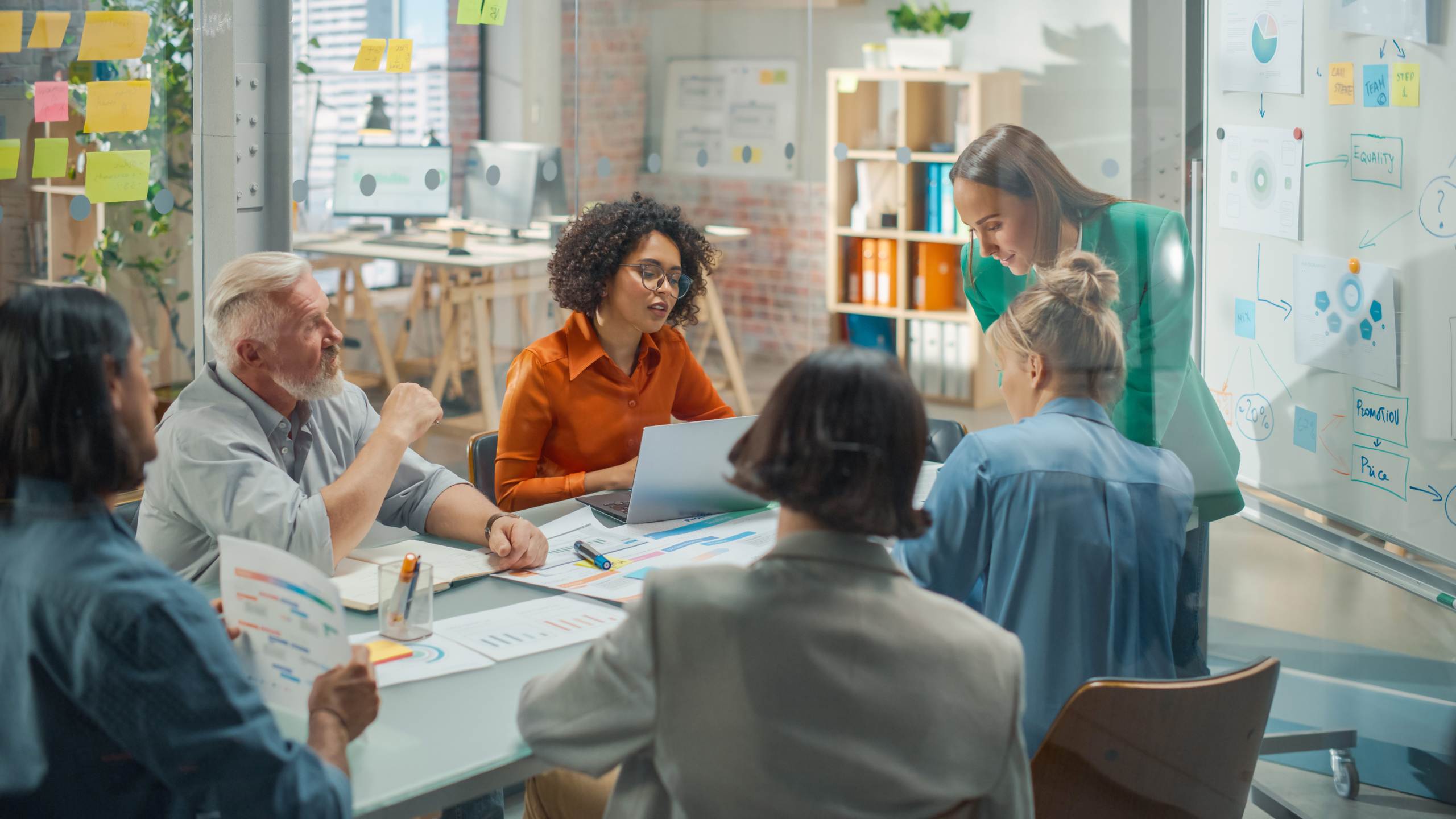 An Introduction to Google Business Profiles | Digital Marketing Guide
Blogs
Google's Business Profile Manager enables businesses to be visible and control the information that appears on search engine results pages on Google. This tool equips brands with the ability to also manage how their business appears online with no associated costs, aside from time of course.
Google Business Profiles have been around since 2005 when the search giant launched Google Local Business Center. The tool has changed dramatically since its conception, and we're not just referring to numerous name changes. In 2014, Google launched a whole host of new features that gave organisations more control over how their businesses appeared online.
As mentioned previously, having a listing in Business Profiles is completely free, and is considered a necessity for all businesses, even if you don't operate online. A successfully completed Business Profile can be a strong trust signal for both your potential customers as well as search engines. In a short summary, high trust signals will enhance your business's visibility online, so your SEO, and encourage more users to visit your website or business premises.
If you're still on the fence about taking the time to update, claim or create a listing or just want to learn more information about the best features of Google Business Profile, then this is the guide for you.
What is a Google Business Profile?
Google Business Profile, known formerly as 'Google My Business' and prior to that; 'Google Places', enables brands to display important information about their businesses online. These listings hold information about your organisation from business category and description to contact information and links for your website.
The listing management tool is regularly making important updates to the features within the platform too, giving businesses additional functionality to determine how their listing appears in search. Essentially the key purpose of having a business profile on Google is to connect your organisation with users in the vicinity.
Your Google Business Profile will also share its data with other Google products too, so you can be found on other platforms such as Maps and Search. Your Business Profile is the perfect platform to enable your customers to learn more about your products and services in a quick and succinct way.
It's important to mention what is or isn't a Google Business Profile. Your business listing is not a website, it is simply a listing that appears in search engine results when a user searches for your business or a service/product you provide. Additionally, users have the quick option to contact your business or find your location, all from Google Search. Streamlining the process from prospect to lead to customer.
The Benefits of a Google Business Profile
Every single day, billions of different searches are made via Google, no matter how obscure your query is, Google will likely return a result for your question. With Google Business Profile, your brand will become more visible to people making searches that relate to your business or offering. Google currently holds around 85% of the search market share with Bing holding around 7% of the global share.
Thanks to technological advances it's even easier for brands to promote their products and services, and Google Business Profile is no exception. Google and their free-to-use service undoubtedly supports various brands in generating organic leads.
These listings are very notable amongst search traffic as they are placed at the top right of search engine results pages. In order for your listing to appear here, you need to ensure your profile is fully optimised. This is because Google will always favour the most trustworthy and authoritative brands, ensuring they display the most accurate information to users.
Enhanced Local SEO
Google Business Profile listings enhance your local SEO through the linking of your company and website (if applicable) to a location through the information that you put in. This then allows you to target local business search traffic more efficiently and effectively. Targeting this search traffic can be very effective for your business as this traffic tends to be high converting through the use of a business profile.
This can be done by ensuring that your business's contact information, opening hours and other crucial data are all up-to-date.
Google Business Profile also enables your business to appear on other Google tools such as Maps and Local Pack listings. The Local Pack appears right at the top of search results and accounts for a big proportion of the on-screen real estate.
Enhanced Consumer Interaction
Managing a business profile listing can easily enhance the interactions that you have with your consumers. This again can be done via the phone extension in Google. Allowing customers to directly get in contact with you at the click of a button. But this is also made possible through reviews.
With reviews on a business profile listing, you can effectively demonstrate to your audience the quality of your business. With the added functionality to read and respond publicly, users can quickly see how engaged you are as a business. Never underestimate the power of a review, around 93% of online buyers are influenced by reviews when making purchasing decisions. Online reviews are a huge trust signal to both your users and search engines alike.
Uncover Unique Insights
Google Business Profile not only enables your brand to promote its products and services for free, but it also helps you understand your key metrics at a glance. With 'Insights' you can evaluate data that can guide future decision making by getting to grips with what is or isn't performing well for your business.
Now, we know that Google Analytics provides all of this information, but for a quick, 'at a glance' look at performance, your business profile can provide this. Some of the metrics that are available within the insights tab are:
Views
Business Interactions
Sources (Including which platform)
Search Query Breakdown
User Locations
How To Set Up Your Google Business Profile
So how do you claim or create a Google Business Profile? Below we've created a step by step guide on what you need to do.
1. Creating a new business profile. If your business is currently not listed in Google Business Profile, you can create a new business here and continue with the next steps.
2. For those creating a new business. After clicking the link above you'll be directed to a webpage to begin building your profile. To start, you'll be required to enter your business name and business category.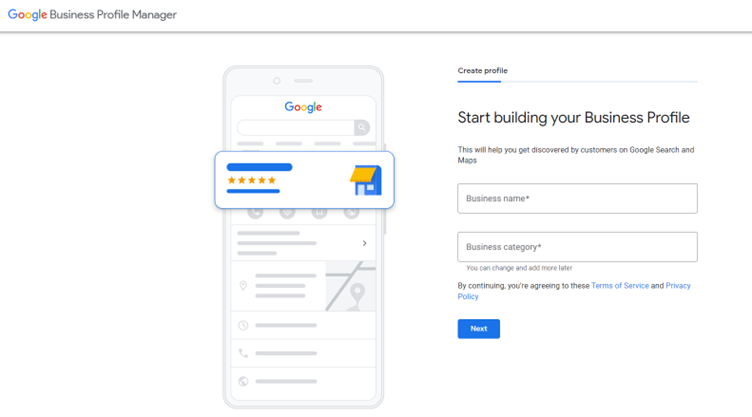 3. You'll then be asked whether you want to add a location your customers can visit. Click which is applicable to your business.
4. Add your full business address
5. If your business is in the vicinity of other businesses, Google may suggest other businesses nearby that could be yours.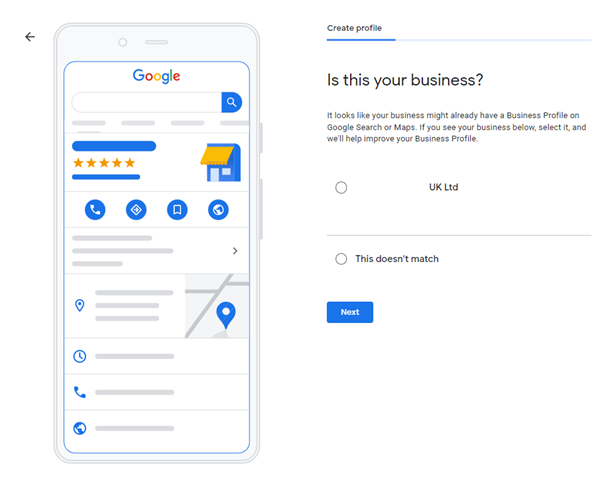 6. You'll then be asked whether or not you provide deliveries or visits, this will create a service radius for where you're willing to travel.
7. Add your up-to-date contact information, you can include your website here if your business has one.
8. Now you'll be required to verify your business, depending on the information you've added to your profile you could be asked to verify via postcard, app or phone number.
9. Add your business hours
10. Add messaging, if applicable
11. Add your business description, be sure to include what it is your business offers. This description will also be used across the Google ecosystem such as Google Maps.
12. Add photos of your business, ideally start off with a logo or shopfront.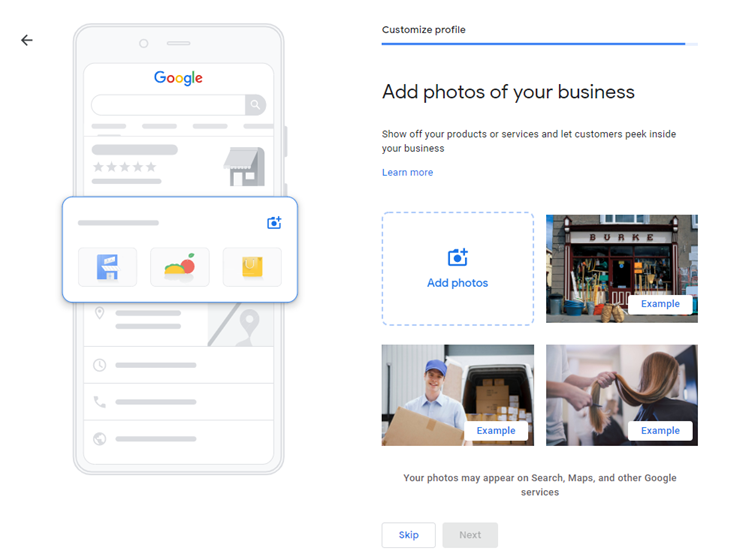 13. Done! Once you've verified your business, Google will start to show your listing publicly across Search and Maps.
For Existing Businesses
If you think you have a business listing already but haven't claimed it, you can search for your business here. If your business is already being managed by a user, you can request access to the account or use the Account Recovery tool to try and access the listing.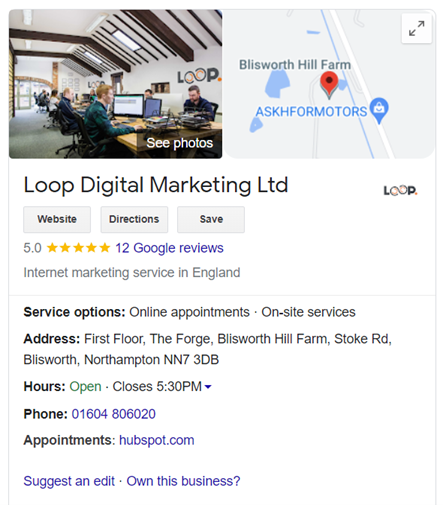 Unfortunately, there is no guarantee that you will be able to access a pre-existing business due to Google's security restrictions. However, if you have access to the historic email address that is associated with your account, then that'll work in your favour. Best of luck!
Digital Marketing at Loop Digital
Even businesses that don't operate online can benefit from having an online presence. We've got years of experience in supporting businesses across different industries to grow online. Unlock your company's potential digital marketing. Call us on 01604 806020 or speak to one of our experts today.