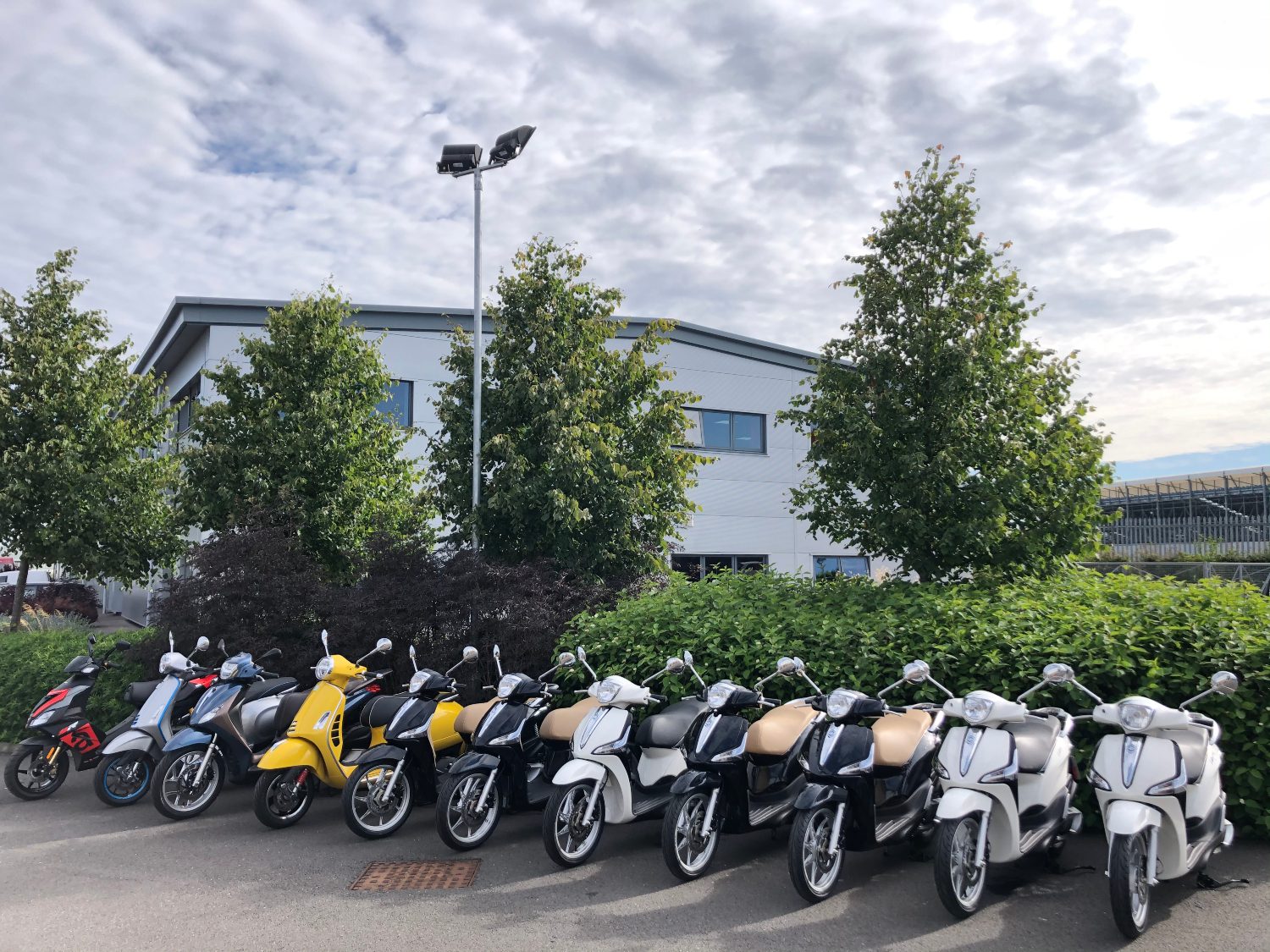 All your questions answered on the Wheels to Work service
What is Wheels to Work?
Wheels to Work is a scooter hire company – we provide 50cc or 125cc petrol driven scooters to help people get to and from work. We mainly hire out to people who have little or no access to transport and have found themselves struggling to apply for jobs that are further afield due to only being able to commute short distances. We have found past and present customers get a new lease of life when they hire a scooter from us – improving both their life and their career prospects.
Hiring with Wheels to Work
Applying for Wheels to Work is a straightforward process. We always aim to get back to applicants within minutes of them sending over a form.
If you send us details over the weekend, it will take a little longer. One thing is for certain, whether by phone or by email no enquiry will go unanswered.
In this post, we will break down all the common things we get asked during the application and hire process.
Can you hire on a provisional licence? Can you hire if you're 16? Do you need to find your own insurance? How long should it take before you're on the road?
Read on for all the answers or check out our FAQ page here for a shorter breakdown.
What licence do I need?
If you want to hire a scooter from us, you will need to own at least a provisional driving licence. You can apply for one here.
Riding experience is not necessary; however, it always helps and a CBT (more on that later) can offer you all the training and confidence you will need on the road.
You will have to make sure a couple of things are up to date on your licence at all times.
For example, you need to amend your licence if you move address. It is a legal requirement for your home address to be the one displayed on your licence.
The same applies with any personal details like your surname.
Keep an eye on the expiry date of your licence and make sure you have plan to renew it if the date is coming up. For reference, it is line 4b on the front the card.
Do I need a CBT?
A CBT, also known as compulsory basic training, is a mandatory course for riding a scooter. It is a legal requirement and a non-negotiable if you want to hire with us.
There are a couple exceptions:
If you passed your car driving test before 1st February 2001, you can ride a 50cc without a CBT.
If you have a full motorcycle licence, you can ride both the 50cc and 125cc without having to show us a CBT certificate.
However, if you do not apply to either of the above, you must show proof of this certificate.
It is worth noting that a CBT will expire after two years of the issue date so you will need to re-take the course and receive a new certificate.
In terms of cost, the average CBT course varies between £175 to £200. It is all dependent on the location and branch of the centre you choose. Check out our CBT providers page to find your nearest centre.
If you lose your CBT, give the centre a ring and ask for a replacement copy. It is likely they will charge you for this. If the centre is no longer in service, you will need to take your CBT again.
If you are looking to hire and need help with booking or renewing your CBT, please get in touch and we will try and help you.
Is there an age limit?
If you are aged 16, you can only legally ride a 50cc. We will also ask for details of a guarantor to co-sign the hire agreement.
If you are 17 or above, you can ride either bike and do not need to have a guarantor.
We do not hire out scooters to anyone over the age of 70.
How long can I hire for?
Our hire contract has a minimum term of four months. There is no limit as to how long you can hire with us for.
If you cancel early, and dependent on what insurer you are with, you will waive the right to have your deposit refunded.
What's included in the hire package?
It is all detailed in the What's Included page on our website, but here is a quick breakdown.
An easy-to-follow service schedule that won't leave you without a scooter.
Delivery and collection included.
Monthly limit of 750 miles.
Third-party insurance.
Breakdown cover.
MOT and road tax included.
We can source you clothing and gear (extra charge).
Free chain lock for the scooter.
What am I not allowed to do?
We cannot allow you to use our scooters for delivery or courier work. We are exploring the possibility of it in the future, but right now it is not an option for you.
The scooters are for road use only and you cannot take them off-road.
You cannot modify the scooter or fit your own accessories to it.
If you would like a top box on your scooter, let us know in the application process or get in touch if you are currently hiring from us. We will source one for you and fit it when it arrives.
By signing our terms and conditions at the start of the hire, you will lose the scooter if you are in violation of any of the above.
How long will it be until I get the scooter?
The question we get asked the most, and the answer is simple: if you provide all the documents we ask for and you are ready to make your initial payment then you won't be waiting long at all.
We always ask for a £150 deposit and either your first week or month of hire upfront. If you want a quote on your weekly/monthly costs, send an application form in. We do not provide any quotes until we have all the relevant information.
In conclusion…
Hopefully, this post has helped answer any questions you might have had.
Check out our FAQ page for any more information or give us a call on 01327 857213 and we'll be happy to help.
Wheels to Work
Are you looking for a way to get back to work? Do you need an affordable and convenient transport solution?
Wheels to Work provides 50cc and 125cc scooter hire in Northants, Bucks, Beds, Berks, Warks, Leics, Oxon, Shrops, Notts, Staffs, South Yorks and North Lincs to support you getting to and from your place of work.
If transport is restricting you actively seeking employment, training, or an apprenticeship, or you work anti-social hours, then hiring a scooter gives you independence and opportunity.
Training and protective clothing can be provided with the scooter too.
For further details, please call 01327 857213 or email info@wheelstowork.net. If you'd like to go ahead and apply, click here.