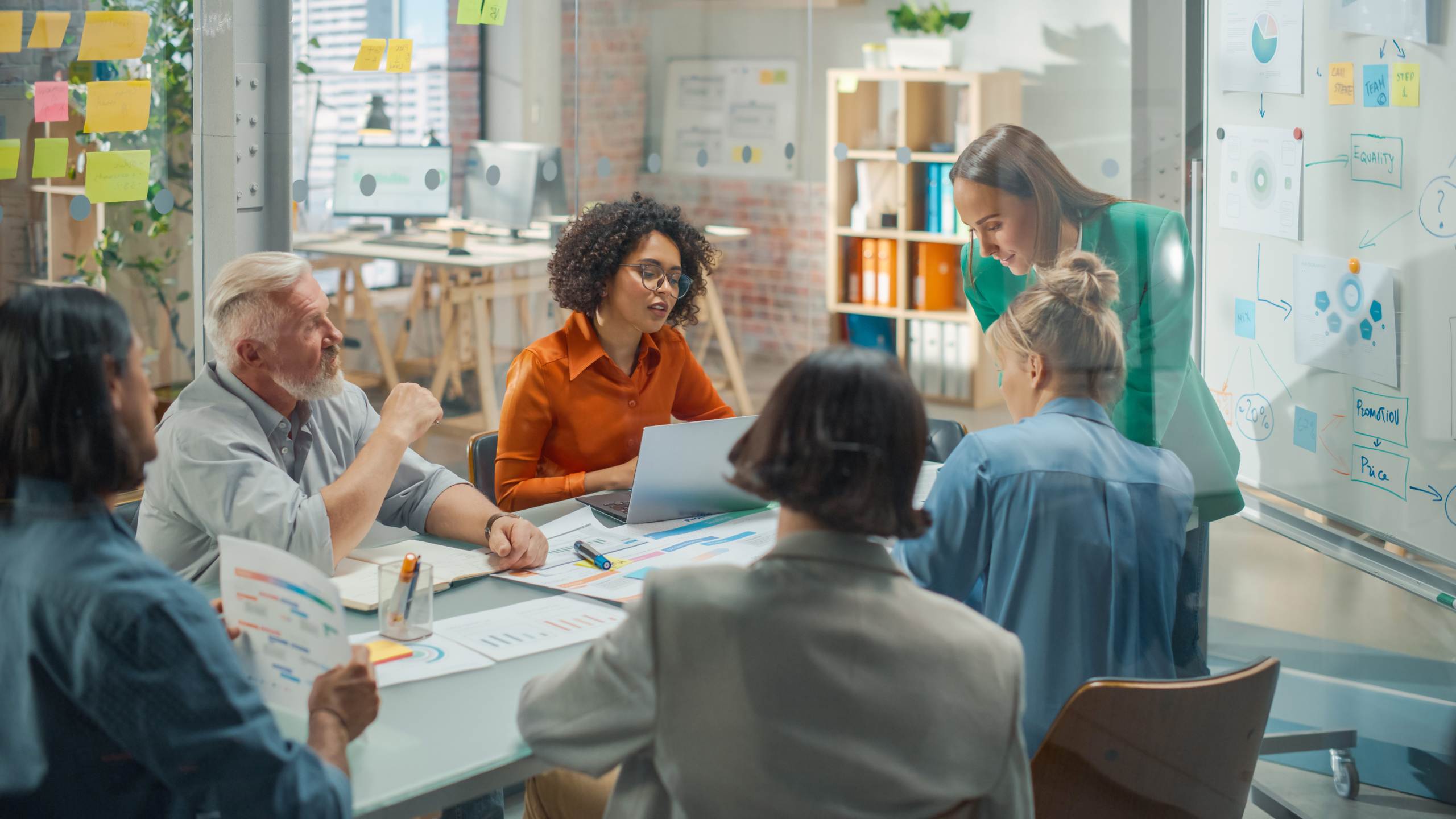 5 Ways Content Marketing Will Grow Your Business | Bright Design
Blogs
Whether you're a small to medium-sized business or a multinational corporation, the digital landscape is there to help you reach your ideal customers. However, without a comprehensive content marketing strategy, you can't deliver the right message to the right customer at the right time.
When buyers research a product or service, 47% view between 3 and 5 pieces of content before connecting with the sales team. The majority of customers want brands to create engaging content that addresses their pain points and delivers actionable solutions.
If you're not one of the 53% of businesses using content marketing, then you're missing out on a valuable digital marketing tool. The right strategy enables you to promote your brand and vision, attract visitors to your website, and increase conversion to secure a high ROI.
To achieve these goals, you need the content marketing tactics tailored to your organisation and industry, which means you need to understand exactly what content marketing is.
What is Content Marketing?
When many people are asked: what is content marketing? They answer blogs, videos, and social media posts. However, this isn't what content marketing is as these three things are content marketing tactics. Content marketing is a type of digital marketing where marketers create, publish, and share content with a targeted audience.
For the strategy to work, you need the right content marketing tactics. If you're a B2C company selling chicken coops, your target audience will be individuals who own and love chickens. They will want content focused on how to look after their feathered friends and how to choose a coop that keeps the chickens safe. You will also need to share the content on channels where they see it. Unlike a B2B, you won't be promoting blog posts on LinkedIn but rather Facebook and Instagram.
Why is Content Marketing Important?
Content marketing helps you build long-lasting relationships with customers. Publishing engaging and high-quality engaging content consistently establishes your brand as a thought leader in your industry, generates conversions, and develops relationships with prospects and customers.
Establish Consistent Branding
Consistent brand messages resonate with loyal customers and potential leads. That's why your business's branding is key to the growth and success of your company. Through content marketing, you can deliver a consistent message, tone of voice, and unique selling points across customer touchpoints.
Attract Customers
The longer you can keep visitors on your website, the more chance you have of them becoming a customer. An engaging website gives you more opportunities for customers and first-time site visitors to become familiar with your brand. It will also increase how much they trust your business, and this will lead to a higher conversion rate.
Increase Conversions
Converting a sale is easier when a customer finds you, rather than you finding them. Content marketing tactics increase your brand's visibility, engage users who click on your website, help them navigate the buyer's journey, and enquire with your sales team.
The Different Types of Content Marketing
There are many types of content marketing tactics. Here are five of the core features of this strategy:
Blogging – A blog is a regularly updated web page and is a vital tool for businesses. The right blogging strategy enables you to generate consistent long-term traffic to the same blog post. For blogs to help your business grow, you need to create relevant blog topics, write engaging content, and promote it in the right marketing channels.
Video Creation – You don't need a big budget to generate high-quality video content. With engaging information and presentation, you can keep users interested in your brand for longer.
Email Marketing – Email marketing is a way to deliver the right message directly to someone interested in hearing it. Emails let you nurture prospects and delight customers after they make a purchase. You can build trust while increasing conversion through email marketing.
Social Media – There are many social media platforms and all offer unique types of content. What works on one channel won't work on another. Identifying the social media platform your target audience uses and publishing relevant, engaging content is the ideal way to promote your brand to the right people.
Podcasting – One of the newest forms of content marketing tactics, podcasts are growing in popularity year on year. As it's a type of long-form content they present a great opportunity to solve your ideal customer's pain points, entertain your target audience, and establish your brand as a thought leader.
5 Ways Content Marketing Helps Grow Your Business
Building Trust
The pinnacle of any business is to be an industry leader in their field. Before your business can reach this height, you need to build trust with your customers and target audience. One of the most effective ways to do this is by publishing high-quality content. This will allow you to showcase your expertise, knowledge, and relevance within your industry.
You build trust through content marketing by offering value, prioritising authenticity, and engaging with your target audience. As a B2B organisation, you can do this by publishing blogs on how you can benefit your clients and promoting them on relevant channels, such as LinkedIn. Developing authority builds trust and trust helps secure conversions and helps stimulate business growth.
Enhancing Organic Visibility
Publishing high-quality content helps deliver your message to more of your target audience. The main source of traffic for a website is Google. While social media does send a lot of traffic to websites, particularly Facebook, the difference between Facebook and Google's referring power is staggering.
In 2018, a study by SparkToro discovered Google sent 10x more traffic to the average website than Facebook, more than 10x any other website. Google refers to more organic traffic than Facebook in pretty much almost every media category. So how do you increase your visibility in Google's search? The answer is: with great content.
Content marketing and SEO fit hand in glove. Every new blog post is another page Google will index. If you're regularly publishing high-quality, relevant content, you give yourself more opportunities to rank for your targeted search queries. This means your website will be the first thing a potential customer sees on SERPS, which is crucial.
After analysing billions of Google searches, the results showed that over 25% of users click on the first organic result. A search ranking can be the difference between converting a sale or missing out.
Attracting The Right People
There's no value for your business in attracting the wrong people to your website. The wrong person is someone who isn't interested in your products or services. They're the opposite of your ideal customer. Attracting the right people benefits your business and them too. They find useful, relevant, and engaging content. And your business has the opportunity to connect with a prospect.
When you're brainstorming content marketing ideas, identify your target audience's pain points and interests. From there, create content that's relevant and valuable to your target audience. You then need to publish and promote it on the right channels, the channels that your potential customers use the most. This is how you can increase traffic, brand awareness, and conversions.
Influence Returning Visitors
With the right content marketing tactics, you can create ambassadors for your brand who will promote your business because they trust you. If you can become a trustworthy source, your conversion rates will increase and more websites will refer to your business. This means your inbound links from external sources will increase, enhancing your domain authority which will raise your rankings on SERPs.
The initial interactions with a potential new customer are crucial – both for your business and your customers. If you have a better idea of what your target audience wants, you improve your chances of solving their problems. This will make them more likely to become loyal customers, not one-time purchasers. Someone loyal to your brand is not only going to buy from you again but will promote you to people they know, which is why content marketing is crucial when growing your business.
Ability to Analyse and Optimise Performance
Content marketing enables you to analyse the performance of your content and optimise it to deliver long-term results. Whatever approach you take to your business's content, whether it's a blogging or email marketing strategy, you must test the tactics to ensure they're right for your organisation. If you're generating organic traffic, consider whether you're creating relevant content. You should also test whether you're promoting your content on the right channels.
You should regularly measure metrics such as page views, click-through rate (CTR), average time on page, exit rate, and bounce rate. These metrics demonstrate how your website's users are interacting with your content. And if they are, how are they interacting?
When your ideal target audience can't find your content, there may be a problem with your chosen keywords. You need your web pages to be optimised for relevant, high-volume keywords that your ideal customers are searching for. Whereas if your rate is high, the content on the page may not be relevant or valuable. Identifying areas for improvements, allows you to optimise the performance of your content marketing strategy.
Bright Design Content Marketing
The right content marketing strategy can spark business growth in the short- and long term. At Bright Design, we help businesses build trust and encourage action through engaging content that resonates with customers. Through analysis and optimisation, our team supports your business to secure a sustainable number of leads.
Discover how to grow your business with content marketing today, call us on 01604 936423 or fill in the enquiry form on our contact page.