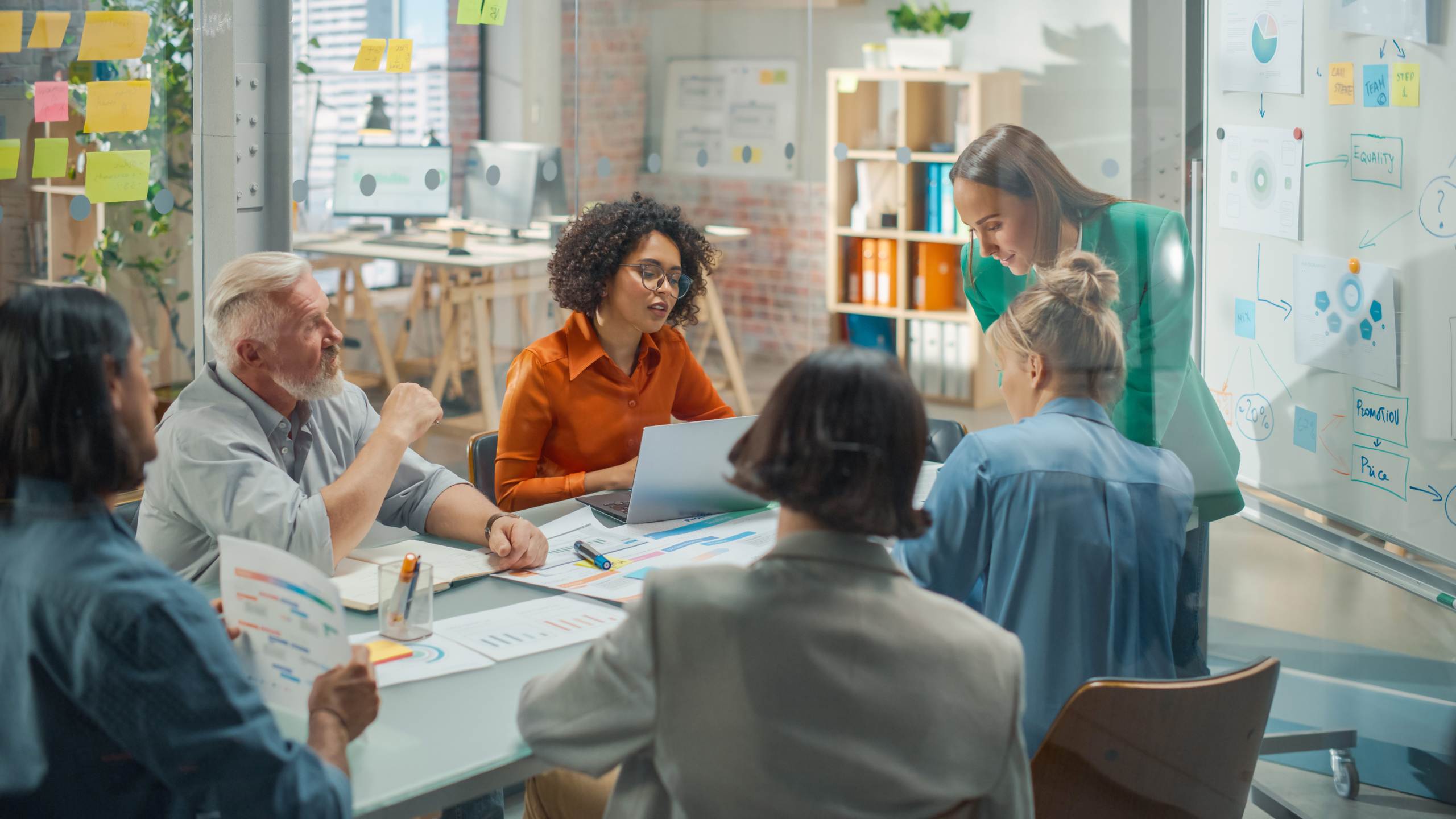 5 Of The Best B2B Content Marketing Tactics | Content Marketing
Blogs
Nailing B2B marketing is a much-underrated challenge, take our word for it. The internet and all of its subsidiaries are flooded with millions of B2B marketing content pieces, but fortunately for you, most of them aren't all that good. Whilst the B2B market is arguably oversaturated in many sectors, there is, however, a gap in the market for genuinely valuable and relevant content. Intro you!
A B2B content strategy is designed to put your brand in front of the people who matter most to your business. Of course, that's easier said than done. You'll need to formulate a strong plan, create high-quality content that sings to your market, and promote it to the most efficient channels to achieve optimal results.
All too often we see businesses fall short by skipping the planning processes, resulting in posting content for content's sake. Don't follow suit! In this short guide, we'll be looking at what exactly B2B marketing is, how it differs from B2C, and the best tactics you should include in your strategy.
What is B2B Content Marketing?
B2B Marketing or business-to-business marketing refers to any marketing strategy or content that is specifically targeted toward a business or organisation. B2B content marketing leverages content to expand your brand awareness, strengthen your engagement and ultimately drive new leads and sales from other businesses.
So why should B2B content marketing appeal to you as a marketer? Well, in short, it has a great return on investment. Data signifies that the ROI of content marketing is steadily growing year on year with more brands wanting in on the action. Increasingly, more and more marketers are entering the B2B space, with over 95% of B2B marketers stating that their organisation 'represents a valuable and trusted content resource to their audience'.
With that said, surveys have shown that only around 37% of B2B marketers have a documented content strategy, meaning there is still a huge opportunity to get out ahead of the curve.
The purpose of B2B marketing is to enhance the familiarity of your brand, particularly in the professional or business ecosystem. This familiarity will over time establish trust, promoting the value of your products or services, and ultimately influence them to become customers.
B2B Marketing vs B2C Marketing
Despite what some marketers may say, B2B and B2C marketing are very different kettles of fish. Due to this disparity, the respective content strategies and tactics must be adapted to suit the market at hand. We've included a breakdown of some of these comparisons down below:
Audience Targeting
With B2B marketing you'll be focusing your efforts on a group of professionals who have the power to make purchasing decisions on behalf of their organisation. On the flip side, B2C marketers will mostly distribute their content directly to the consumer, with a bigger emphasis on funnel marketing.
Another key point to raise is where you choose to target your audience. The channels in which your target market spends their time online and how they consume content will heavily influence where and how you promote your content. For B2C it's likely you can invoke a level of engagement across most of the major social media channels for example.
Whereas with B2B you will need to be more selective about where you publish your content. How do you identify the right channels you might ask? We'll cover that in a later section.
The Customer Journey
Another significant difference to bear in mind is the customer journey. For B2B businesses, the purchasing decision process will be longer, costing more resources and time to get them to sign the dotted line. This is largely due to the fact that the user you marketing to, will be making a big decision on behalf of their organisation, not to mention that the majority of professional purchases are costly.
As a rule of thumb, for most businesses, the bigger the purchase the longer their consideration period will be. So what does this mean for you as a marketer? Well, it means you'll have to work even harder to build and maintain a relationship as well as grow trust between your business and theirs. The relationships that you build within B2B markets should be more personable as opposed to the more transactional focus we see in lots of B2C marketing.
Brand Messaging
In order for your brand messages to sing home to your target market, in this instance B2B, you need to consider the way in which you communicate your messaging. For B2Bs, your messaging should be more formal and unambiguous, clearly articulating what it is you offer and how you can help your audience.
The key goal when it comes to your content is to provide messaging that is cohesive, resonant and influences your customers to take valuable actions. Without this, your messaging could be lost or misinterpreted by your prospects.
The Best B2B Content Marketing Tactics
Content marketing is a cost-effective way to generate organic leads, and stand out in the most crowded marketplaces. However, not all content marketing tactics will drive a good return for your business, so predefining which marketing tools you're going to utilise is a must!
Below we've outlined 5 of the biggest and most widely leveraged tactics for you to consider. Do bear in mind, that the tactics your business uses should be dictated by your target audience's behaviour and the types of content they prefer to engage with.
Email Marketing
Blogs & Articles
Marketing Personalisation
Reviews, Case Studies & Testimonials
Whitepapers
Email Marketing
Kicking it off we have email marketing. Before you even consider the thought, no, email marketing is certainly not dead! In fact, it's one of the key tactics that's stood the test of time. Across all industries, the average open rate for an email is around 22%, with an average click-through rate of 3%. Data has shown that every £1 spent on email can generate up to £35 in return.
Your email marketing lists are often a goldmine of untapped potential, particularly when used correctly! Your email list should be a list of engaged contacts, and visitors who have willingly shared their data with you, like your existing client base or previous customers of your business.
With B2B email marketing, your business can educate users about your brand, nurture existing leads and provide continuous value to previous customers. Oh, and let's not forget the opportunity to upsell your other products and services to your existing clients.
One of the many benefits of email is that it enables you to distribute or re-purpose your other content too, consider including your latest articles, blogs or videos in your email campaigns.
The key to a successful email marketing campaign is planning. Think about why you're sending the email in the first place, what's its purpose and how can it provide value to your recipients. Efficient B2B email marketing is all about sending the right message to the right person at the right time.
Blogs & Articles
Duh! Blogging is an essential tactic for any business, and the same goes for businesses in B2C markets too. Blogs are an effective, reliable and affordable way to build more traffic to your website. A successful blogging strategy can bring many long-term benefits to your business, including improving your ranking in search engines and expanding your reach.
Blogs and articles can be utilised to accelerate the purchasing process and buyer's journey.
A really good tip is to map your B2B blog content to the buyer's journey, selecting content that will attract, engage or convert your target market. Consider your user's pain points, challenges, goals and needs when putting together your content plan. What information will your users need or want to know? All of these are crucial considerations for creating valuable written content.
Depending on the niche or sector that you work in, you'll need to think about your tone of voice and how your content will be interpreted by your audience. For most B2B businesses, you'll have to bear in mind the decision-makers who will be reading your content, what sort of impression do you want to make?
Of course, don't go changing your brand personality, after all, that's what makes your business who you are. Just ensure that your written content is consistent with the home brand and appropriately articulates your messaging.
Marketing Personalisation
Marketing personalisation isn't a new tactic in the industry, in fact, it's been leveraged since the earlier days of print marketing. However, increasingly consumers and businesses are demanding an approach that feels personal to them. In the same way, consumers don't wish to be treated as 'any old customer', businesses will expect exceptional service, even when it comes to your marketing.
B2B marketing personalisation goes beyond using a personalisation token in an email. Instead, it aims to offer a fully personalised experience that provides your customers with what they need, when they want it. According to this report, 80% of brands have seen an uplift in sales after implementing personalisation.
As we've noted before, B2B content marketing does come with its challenges, and these are only growing. You need to start thinking out of the box in order to accelerate that already extended purchasing journey. There are many different features and elements you can include within your personalisation strategy but here are some starting points:
Smart CTAs – These are essentially dynamic calls to action that change depending on the user's information or user behaviour.
Live Chats – Chatbots are great don't get us wrong, however, your visitors need to know that a person is ready and waiting once they want to strike up a conversation. Increasingly consumers, including businesses prefer to engage with live chats instead of phone or email support.
Knowledge Base – More so now than ever, your prospects are happy to conduct a self-service approach to exploring your products or services. This is a crucial point in the consideration stage of their journey, ensure your user can easily find or navigate to what they need.
Website Experience – Modern-day websites are now technical machines, we're now at a point where your users don't all have to have a mirrored user experience. By leveraging user data, demographical, behavioural or contextual data, you can implement smart content that shows your visitors the information they want to see, improving message resonation.
Reviews, Case Studies & Testimonials
The proof is in the pudding! 93% of B2B buyers say that reviews are influential in their decision-making process. Customer reviews, case studies and testimonials are all crucial in winning over your leads, and converting them into paying customers.
Most sectors and industries are oversaturated, aside from your USP, what can you give your prospective client that will influence them to sign on the dotted line? We know! A strong case study that sets the scene with your client's pain point or challenge, how you applied your solution, whether that be a service or product, and how that helped them find success.
Whatever your niche, you can expect your prospective decision-maker to carry out research on your brand, products and services. In order to make the best possible impression, ensure that all of your associated review platforms are up-to-date and portray your business in the best possible light.
When it comes to testimonials they can be a great snippet of content that can be used in a variety of ways. Hero them on your website, create a social post about them or include them in an email, the opportunities are endless.
Whitepapers
If your business is looking to enhance its authority in the market and work towards becoming a thought leader, then a whitepaper is a great place to start. For B2B businesses, many decision-makers will be less interested in the faff and more inclined to skip to the cold, hard facts, a whitepaper is a perfect way to facilitate this.
Long-term content continues to grow in popularity as time goes on, particularly as research journeys continue to grow. According to research, around 62% of C-suite decision-makers request calls or meeting with brands that produce high-quality thought leadership content. It's no question that B2B buyers find marketing white paper valuable in their buying decisions.
Whitepapers are a great vessel to provide your prospects with valuable, innovative and unique research and content. Providing insight into solutions that help them overcome persistent issues and tackle their pain points. You'll need to leverage market or persona research to reveal what these pain points and goals are. The better you can position these within your content, the better the chance your prospect will take the next steps to purchase.
Your whitepaper should be well structured, highlighting new and fresh information that you have either conducted yourself or have sourced from a viable source. This evidence-based content should always be backed up by supporting references and expert sources, without it, your content could be perceived as just words on a piece of paper.
Top tip! Don't forget to close off your whitepaper with a compelling call-to-action. Think of how you can best position your business to continue the relationship, and what more value can your business add to their company, a demo? Case study? Don't let their journey stop there.
Content Marketing At Loop Digital
At Loop Digital we understand the complexities that come with marketing in B2B industries. We recognise that every message your business projects into the world must effectively represent your brand, voice, and personality.
Our B2B content marketing strategies help businesses build their authority and reputation online. Over time this creates trust, influencing your prospects into leads and leads into customers. For more information about our B2B content marketing services speak to a member of our team today.